✨Featured AI Tools
Getting featured on AI Scout is the perfect opportunity for AI tool developers and owners to showcase their products and gain maximum visibility. By choosing our Featured Listing package, you'll benefit from increased exposure, targeted traffic, and a quickly growing, engaged audience. Featured listings are limited to 9 AI tools at the same time and must meet quality standards set by our team.
Prime Exposure
Featured listings will appear on our homepage under "Top AI Tools" and at the top of any relevant search results, ensuring that your AI tool receives maximum visibility. With an audience specifically searching for AI tools like yours to supercharge their productivity, getting your listing featured on our platform is an easy way to drive revenue and traffic.
Native Advertising
Featured listings are non instrusive to users- they only appear in their search/filter results when relevant. This way, we can minimize ad fatigue and maximize click through rates.
Listing Optimization
Prior to featuring your listing, our team can work with you to optimize it for impressions and clicks. You have a quality AI tool- and our goal is to connect our users with your resource as best we can.
Stats + Pricing
Web traffic statistics: https://www.similarweb.com/website/aiscout.net/#overview
Pricing: $50 per week
To get your listing featured, please fill out our advertising form
---
😍 Newsletter Ads
Feature your AI tool prominently in our newsletter, complete with a succinct description and a direct link.
Example: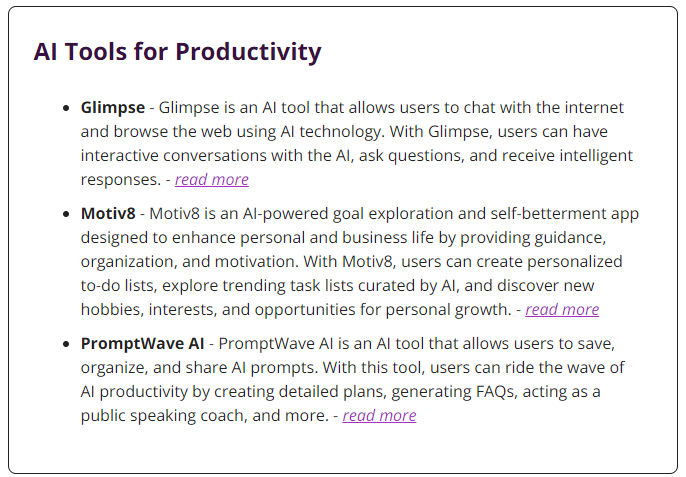 Our Audience
Our audience is a dynamic mix of ambitious professionals and budding entrepreneurs, primarily in the age bracket of 25-45. They are individuals who exhibit a keen interest in harnessing the potential of AI to transform their professional landscapes. While our readership seems to slightly lean towards males, we have a strong and engaged female cohort too. Hailing from diverse industries, from finance to B2B sectors, they're typically characterized by their tech-savviness, proactive approach to innovation, and a penchant for staying ahead of the curve. Their engagement with our content suggests a drive to not just understand AI but to effectively integrate it into their daily operations and strategies.
Newsletter Reach
Subscribers: 1.7k
Open Rate: 30%
Click Rate: 12%
Pricing
Pricing: $25 per slot
To get your listing featured, please fill out our advertising form
---
Key Benefits:
Engaged Audience: Since our launch, we have experienced steady growth and AI Scout is quickly becoming a popular destination for AI enthusiasts and newcomers alike. Throughout our multiple channels, our audience is engaged and readily searching for and willing to try out new AI tools to revolutionalize their personal and work lives.
High Income Demographics: The majority of our users are from the United States, with significant user bases in Canada, UK, and Australia.
Upcoming Features/Events: We have several exciting features and events in development that will increase traffic and user engagement, including:

A reviews competition, with the highest-rated AI tool receiving a free Featured Listing for one week.
A native Android/iOS app
Discord community with a free AI Scout bot (text/image generation + more)
---
Get Started
To purchase an ad package, please fill out the following form. Our team will reach out to you shortly to set you up!