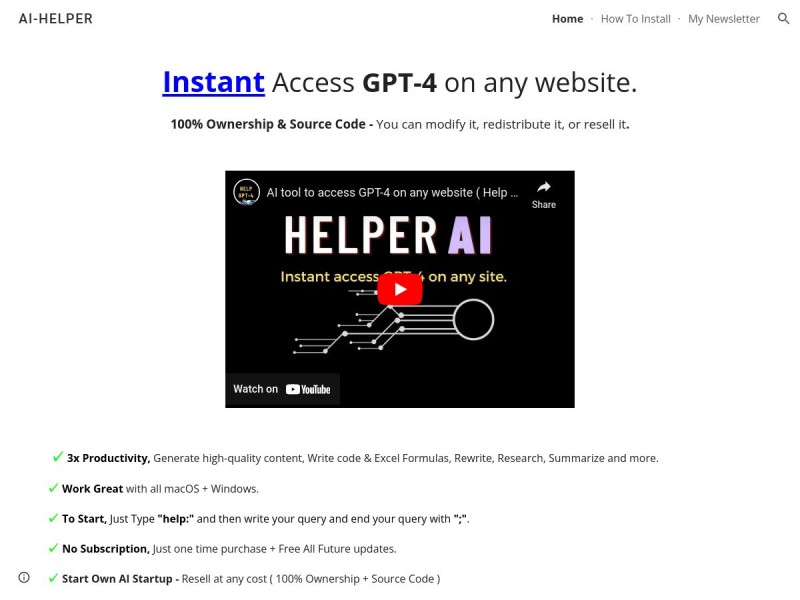 AI-Helper is a powerful AI tool that provides instant access to GPT-4 on any website, offering enhanced productivity and a wide range of capabilities. With AI-Helper, users can generate high-quality content, write code and Excel formulas, conduct research, summarize information, and more.
Productivity boost: Experience up to 3 times increased productivity with the ability to generate high-quality content, write code and Excel formulas, rewrite text, conduct research, and summarize information.
Cross-platform compatibility: AI-Helper works seamlessly with both macOS and Windows operating systems, providing a versatile solution for users on different platforms.
Easy setup and usage: Simply type "help:" followed by your query, ending with a semicolon, to start utilizing the AI capabilities of AI-Helper. No subscription is required, as it only requires a one-time purchase with free future updates.
Ownership and reselling: Gain full ownership and access to the source code, allowing users to modify, redistribute, or even resell the AI-Helper tool. This offers the opportunity to start their own AI startup.
Pricing Type: Paid
Price: $49
Platform(s): Browser Extension
---
Share this AI Tool:
---
Need custom AI solutions for your business?
At AI Scout Solutions, we build AI tools tailored to your unique requirements. Get in touch with us and explore the possibilities of our team creating custom AI solutions tailored for your needs.
Learn More
Alternatives