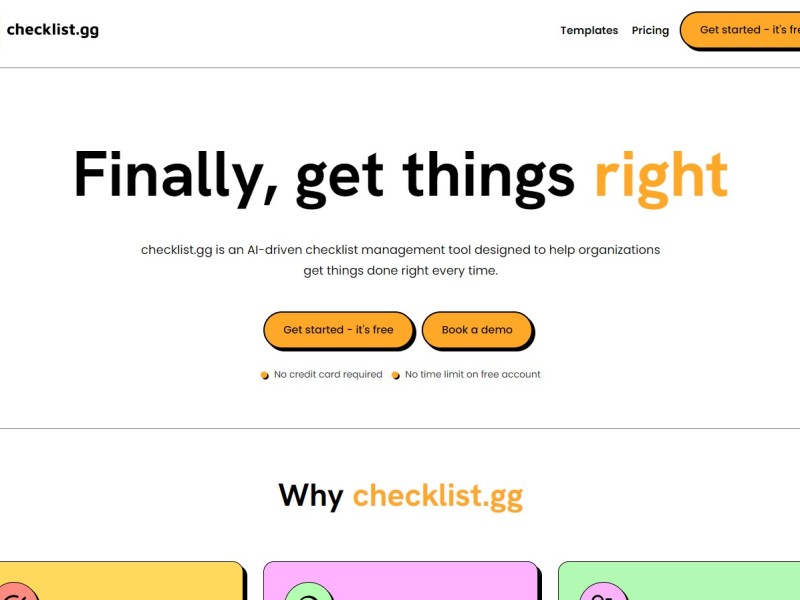 Checklist.gg is an AI-driven checklist management tool that helps organizations streamline their processes and ensure tasks are completed accurately and efficiently every time.
AI-driven Checklist Creation: Utilize the power of GPT-3 AI engine to create checklists, processes, and standard operating procedures (SOPs) tailored to your specific needs in a matter of seconds.
Task and Workflow Management: Easily create, edit, and share checklists, processes, and SOPs with your team, track progress, assign tasks, set deadlines, and manage workflows in real-time.
Real-time Collaboration: Collaborate seamlessly with your team by sharing and editing checklists, processes, and SOPs in real-time, ensuring everyone is on the same page and working towards common goals.
Integration and Templates: Integrate checklist.gg with other tools and platforms, and access a library of over 1,000 pre-built templates across various industries and use cases, allowing for easy customization or immediate use.
Pricing Type: Freemium
Price: Paid Plans from $8/mo
Platform(s): Web
---
Share this AI Tool:
---
Need custom AI solutions for your business?
At AI Scout Solutions, we build AI tools tailored to your unique requirements. Get in touch with us and explore the possibilities of our team creating custom AI solutions tailored for your needs.
Learn More
Alternatives