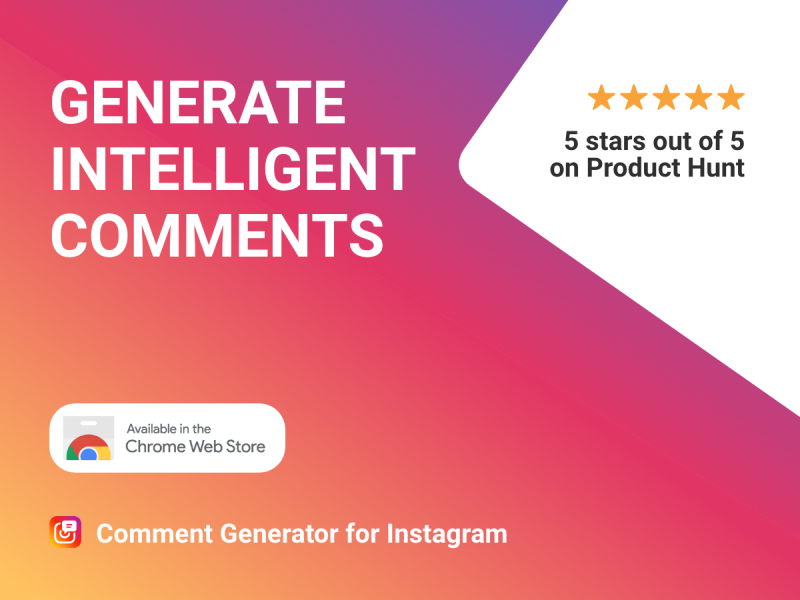 Comment Generator for Instagram is a Chrome extension that simplifies the process of leaving detailed and authentic comments on Instagram. By generating insightful comments within seconds, users can spark conversations, attract attention from content creators, and increase their chances of gaining followers.
Effortless Comment Generation: Generate detailed and genuine comments for Instagram posts with just a click, eliminating the need for brainstorming.
Potential for Pinned Comments: Increase the likelihood of having comments pinned at the top of a post's comment section, making them more visible to future visitors.
Context-Aware Commenting: The extension reads the post's caption to generate engaging and authentic replies, ensuring that comments align with the content.
Edit Before Posting: Take your time to review and edit the generated comment before posting, ensuring that it matches your desired tone and style.
Pricing Type: Free Trial
Price: $4.99/month
Platform(s): Browser Extension
---
Share this AI Tool:
---
Need custom AI solutions for your business?
At AI Scout Solutions, we build AI tools tailored to your unique requirements. Get in touch with us and explore the possibilities of our team creating custom AI solutions tailored for your needs.
Learn More
Alternatives