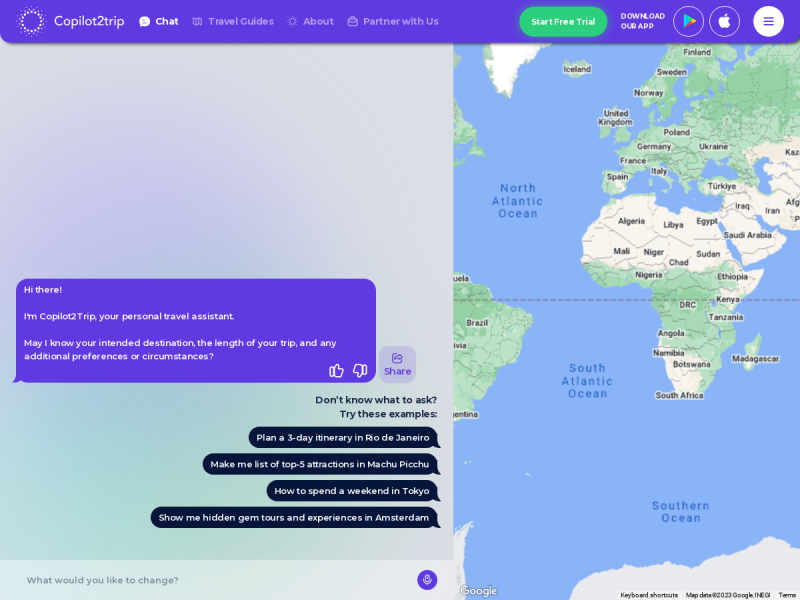 Copilot2trip is your free AI-powered personal travel assistant that helps you plan and experience your trips with ease. With Copilot2trip, you can instantly generate personalized plans, make adjustments based on real-time circumstances, and explore your itinerary on an interactive map interface.
Instant personalized plans: Generate personalized travel plans, from one-day staycations to 10-day trips, by simply chatting with the AI assistant
Real-time adjustments: Easily revise your plans based on unexpected turns or circumstances, ensuring flexibility during your trip
Interactive map interface: Explore your itinerary on an interactive map, giving you a visual overview of your trip plans for a more immersive travel planning experience
Combining technology and wanderlust: Copilot2trip combines cutting-edge technology with the passion for travel, constantly evolving to make every journey extraordinary
Pricing Type: Free Trial
Price: Paid Plans from $7.99/mo
Platform(s): Mobile App, Web
---
Share this AI Tool:
---
Need custom AI solutions for your business?
At AI Scout Solutions, we build AI tools tailored to your unique requirements. Get in touch with us and explore the possibilities of our team creating custom AI solutions tailored for your needs.
Learn More
Alternatives