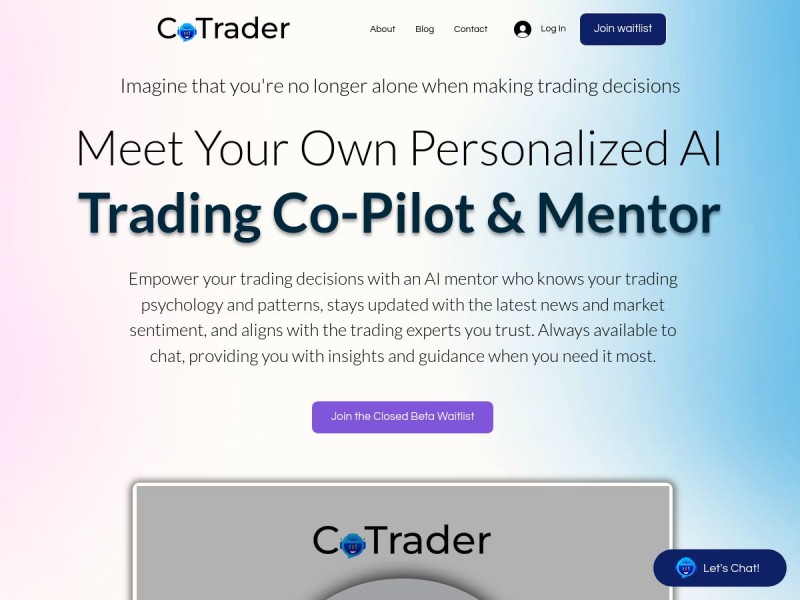 CoTrader is an AI tool designed to assist traders in making informed decisions by providing personalized insights and guidance based on their trading history, market news, and sentiment analysis. With CoTrader, users gain access to a round-the-clock chat platform that analyzes their trading behavior, offers real-time market sentiment analysis, and allows them to consult with trusted trading experts.
Personalized Trading Behavior Analysis: Understand your trading patterns, tendencies, and biases to make more disciplined and rational decisions.
Intelligent Market Sentiment Analysis: Stay updated with the market buzz by monitoring news, social media, and customized information sources for the assets you're interested in.
Consultation with Trusted Trading Experts: Chat and gain insights from successful traders, incorporating their past trades and media content to enhance your decision-making process.
24/7 Personalized Actionable Insights & Recommendations: Receive tailored insights and recommendations for your portfolio and active trades, empowering you to stay ahead of the market.
Pricing Type: Waitlist
Platform(s): Web
---
Share this AI Tool:
---
Need custom AI solutions for your business?
At AI Scout Solutions, we build AI tools tailored to your unique requirements. Get in touch with us and explore the possibilities of our team creating custom AI solutions tailored for your needs.
Learn More
Alternatives