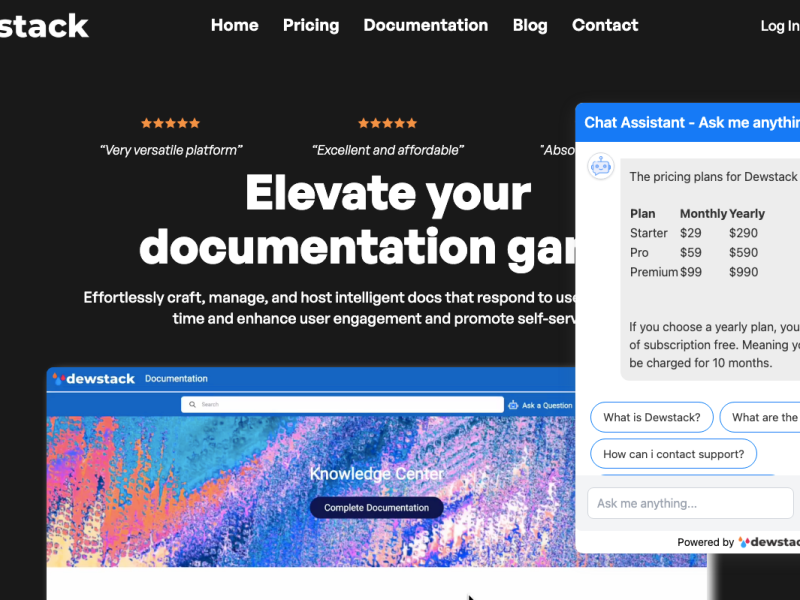 Dewstack is an AI-powered tool that enables users to craft, manage, and host intelligent documents such as user manuals, knowledge bases, FAQs, and more. With its real-time documentation assistance, Dewstack provides accurate answers to user queries, enhancing engagement and promoting self-service.
Instant Answers with "Ask a Question": Users can quickly access information by typing a query, and Dewstack's SmartDocs searches the documentation to provide accurate and relevant answers in real-time.
Seamless Chatbot Integration: Upgrade customer support with an AI-driven Q&A chatbot that can be easily embedded on websites or used as an iframe, offering instant assistance and reducing the workload on support teams.
Import Existing Content with Ease: Import documentation from PDF, Docx, Markdown, HTML, or Zip files, allowing users to leverage their existing content and avoid starting from scratch.
Feature-Rich Editor: The platform offers a user-friendly editor with rich embeds, tables, Word and Excel paste capabilities, beautiful call-outs, and more, making document editing a breeze.
Pricing Type: Freemium
Price: Paid Plans from $29/mo
Platform(s): Integrations/Plugins, Web
---
Share this AI Tool:
---
Need custom AI solutions for your business?
At AI Scout Solutions, we build AI tools tailored to your unique requirements. Get in touch with us and explore the possibilities of our team creating custom AI solutions tailored for your needs.
Learn More
Alternatives