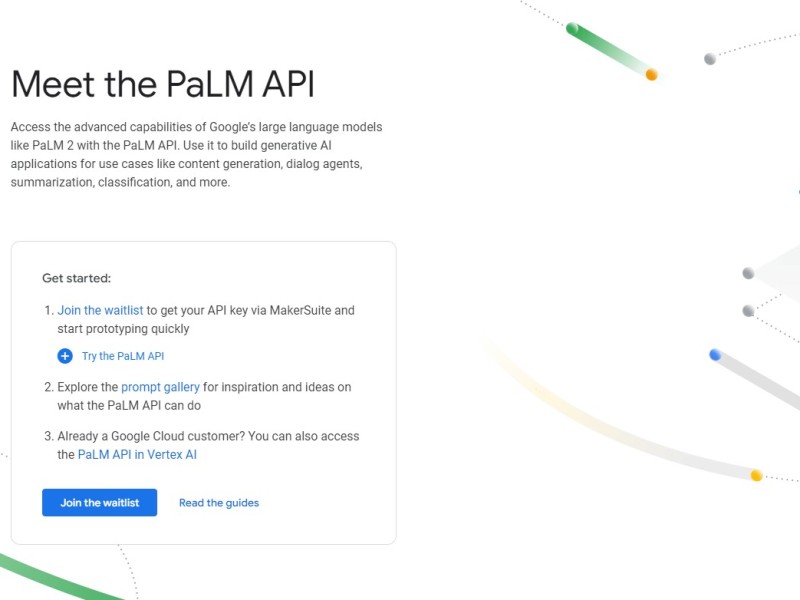 PaLM API provides developers with access to Google's advanced generative language models like PaLM 2. With the PaLM API, developers can build applications for content generation, dialog agents, summarization, classification, and more.
Waitlist Access: Join the waitlist to obtain an API key via MakerSuite and quickly start prototyping with the PaLM API.
Prompt Gallery: Explore the prompt gallery for inspiration and ideas on the various applications and capabilities of the PaLM API.
Fast and Efficient: Benefit from the high-performance of PaLM 2, which offers speeds of up to 75+ tokens per second and can handle complex prompts and instructions with a context window of 8,000 tokens.
Code Generation: Utilize the PaLM API to generate, complete, and explain code across multiple programming languages and technologies.
Pricing Type: Waitlist
Platform(s): API
---
Share this AI Tool:
---
Need custom AI solutions for your business?
At AI Scout Solutions, we build AI tools tailored to your unique requirements. Get in touch with us and explore the possibilities of our team creating custom AI solutions tailored for your needs.
Learn More
Alternatives