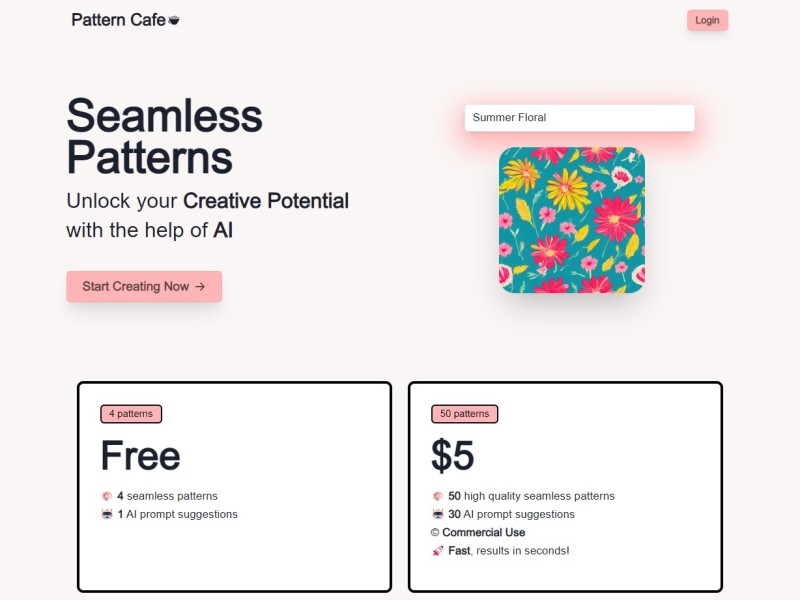 Pattern Cafe is a cutting-edge AI tool that utilizes advanced technology to generate unique and original patterns suitable for textiles, gift wrap, wallpapers, game textures, and more. With its user-friendly platform, both professional designers and hobbyists can easily explore and create a wide range of captivating designs.
Generate unique patterns: Utilize cutting-edge AI technology to generate one-of-a-kind patterns for various applications such as textiles, gift wrap, wallpapers, and game textures.
Wide range of applications: Explore and create designs suitable for fabric, gift wrap, wallpaper, and game textures, catering to the diverse needs of professional designers and hobbyists.
User-friendly platform: Enjoy a hassle-free experience with the intuitive and easy-to-use platform, making it convenient for users of all skill levels to navigate and create captivating designs.
Pricing Type: Free Trial
Price: Paid Packages from $5`
Platform(s): Web
---
Share this AI Tool:
---
Need custom AI solutions for your business?
At AI Scout Solutions, we build AI tools tailored to your unique requirements. Get in touch with us and explore the possibilities of our team creating custom AI solutions tailored for your needs.
Learn More
Alternatives