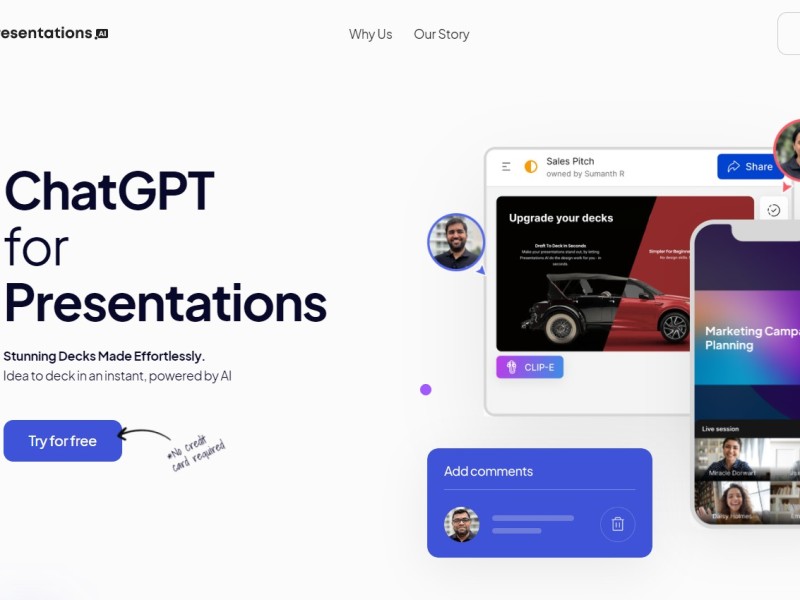 Presentations.AI enables users to effortlessly create stunning and professional presentations. With features like effortless creation, personalized design, anti-fragile templates, and seamless sharing, Clip-E empowers users to bring their ideas to life instantly and impress their audience.
Effortless Creation: Instantly turn any idea into a beautiful presentation with just a few keystrokes.
Personalized Design: Impress your audience with professional and engaging presentations that match your brand's style and messaging.
Anti-fragile Templates: Access a range of templates that are easy to customize and ensure a consistent and visually appealing output.
Seamless Sharing: Share your presentations seamlessly and collaborate with your team in real-time, making the process smooth and efficient.
Pricing Type: Free Trial
Platform(s): Web
Promos: Beta Pricing- Up to 100% Off for a Limited Time
---
Share this AI Tool:
---
Need custom AI solutions for your business?
At AI Scout Solutions, we build AI tools tailored to your unique requirements. Get in touch with us and explore the possibilities of our team creating custom AI solutions tailored for your needs.
Learn More
Alternatives