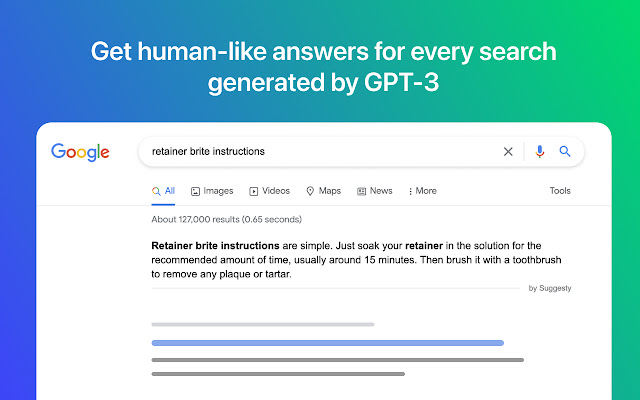 Suggesty is a Chrome extension that uses GPT-3 to provide human-like answers to your Google searches. With Suggesty, you can easily correct grammar, translate text into other languages, create recipes, and get step-by-step guides on how to achieve anything.
Suggesty's features include:
Ability to get human-like answers powered by GPT-3 to your Google searches
Ability to correct grammar by typing "fix grammar"
Easy translation of text into other languages by typing "translate to [language] [text]"
Creation of cocktail recipes from the ingredients you have
Availability for any other requests, from movie recommendations to step-by-step guides on how to achieve something
Pricing Type: Free
Platform(s): Browser Extension
---
Share this AI Tool:
---
Need custom AI solutions for your business?
At AI Scout Solutions, we build AI tools tailored to your unique requirements. Get in touch with us and explore the possibilities of our team creating custom AI solutions tailored for your needs.
Learn More
Alternatives