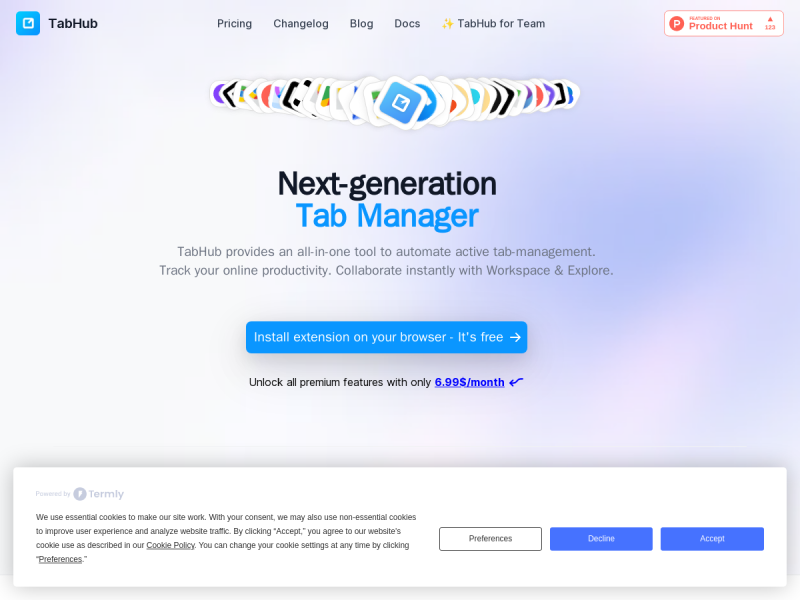 TabHub is an AI-powered tab management tool that helps users organize their browsing experience and track their online productivity. With features like cloud synchronization, smart grouping, and time tracking, TabHub empowers users to take control of their tabs and optimize their workflow.
All-in-one tab management: Cloud synchronization, bookmark management, sorting and grouping of tabs, and the ability to save and restore tabs
Time tracking: Monitor website visits, track time spent on each tab, and gain valuable insights into browsing habits
AI-powered smart grouping: Utilize the power of AI to organize tabs into well-structured groups with just one click
Team collaboration: Collaborate in real-time with team members, share tabs easily, and manage team member access
Pricing Type: Freemium
Price: Paid Plans from $6.99/mo
Platform(s): Browser Extension, Web
---
Share this AI Tool:
---
Need custom AI solutions for your business?
At AI Scout Solutions, we build AI tools tailored to your unique requirements. Get in touch with us and explore the possibilities of our team creating custom AI solutions tailored for your needs.
Learn More
Alternatives