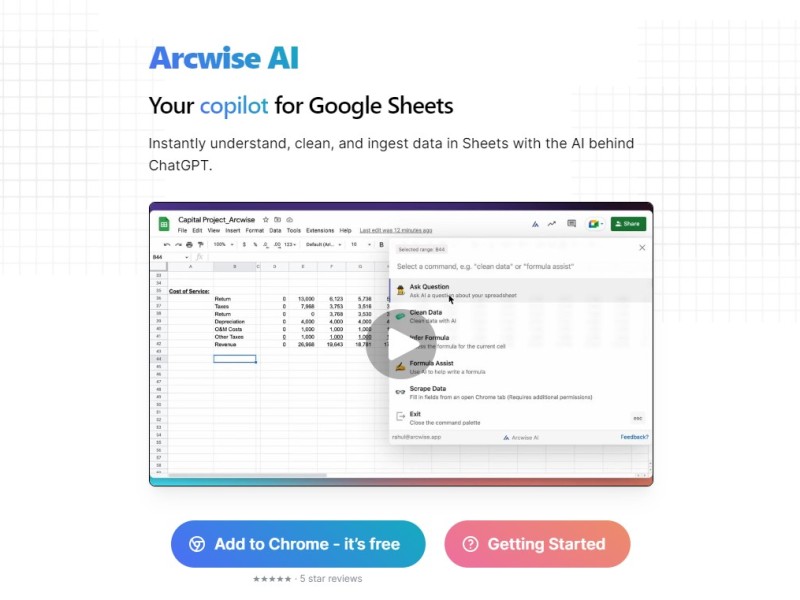 Arcwise AI is a copilot for Google Sheets, enabling users to instantly understand, clean, and ingest data with the power of AI. With upcoming GPT-4 integration, it offers advanced formula suggestions, sheet explanations, and the ability to interact with spreadsheets through natural language queries.
Chat-based Spreadsheet Interaction: Ask questions about your spreadsheet and receive instant responses, enabling a conversational approach to working with data
AI Formula Assistance: Get context-aware formula suggestions generated by AI, accompanied by relevant StackOverflow posts for further understanding
Data Cleaning and Extraction: Perform various data operations such as formatting dates, extracting text, summarizing responses, and scraping content from browser tabs into tables
Upcoming GPT-4 Integration: Experience 10x better formula suggestions and enhanced sheet explanations with the integration of GPT-4, offering advanced AI capabilities for Google Sheets
Pricing Type: Free
Platform(s): Browser Extension
---
Share this AI Tool:
---
Need custom AI solutions for your business?
At AI Scout Solutions, we build AI tools tailored to your unique requirements. Get in touch with us and explore the possibilities of our team creating custom AI solutions tailored for your needs.
Learn More
Alternatives