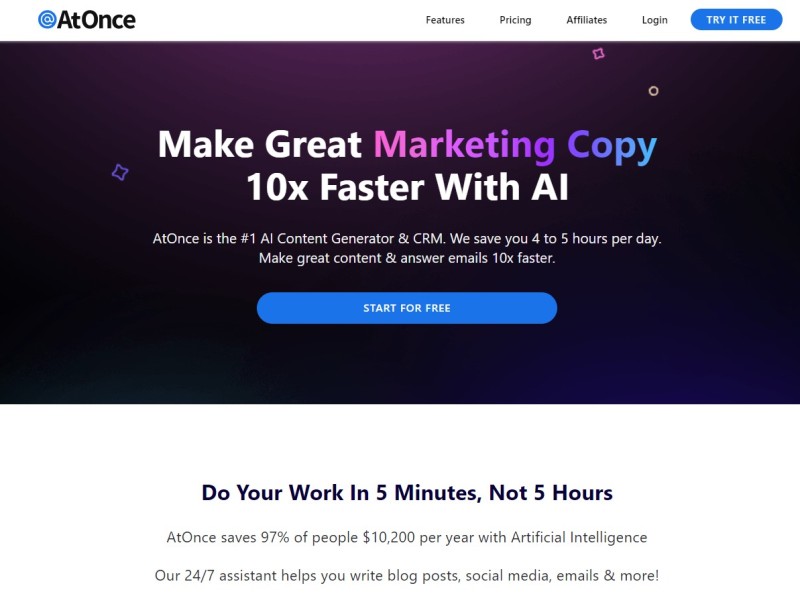 AtOnce is an AI tool that revolutionizes content generation and CRM by saving users 4 to 5 hours per day. With its powerful AI capabilities, AtOnce helps users create high-quality, original content, answer emails faster, and improve overall productivity.
AI Content Generation: Generate high-quality, original blog articles, social media posts, emails, art, images, and more, saving hours of content creation time.
CRM Assistance: Answer emails and messages quickly with the help of AtOnce's AI chatbot, streamline customer service, and enhance productivity.
Copywriting Capabilities: Improve conversion rates by creating high-converting ads, product descriptions, landing pages, headlines, and bullet points with AtOnce's AI-powered copywriting tool.
Multi-Language Support: Write and translate content fluently in over 30 languages, ensuring effective communication with a global audience.
Pricing Type: Free Trial
Price: Paid Plans from $24/mo
Platform(s): Browser Extension, Integrations/Plugins, Web
Promos: Click Visit Below for 100000 Free Credits!
---
Share this AI Tool:
---
Need custom AI solutions for your business?
At AI Scout Solutions, we build AI tools tailored to your unique requirements. Get in touch with us and explore the possibilities of our team creating custom AI solutions tailored for your needs.
Learn More
Alternatives