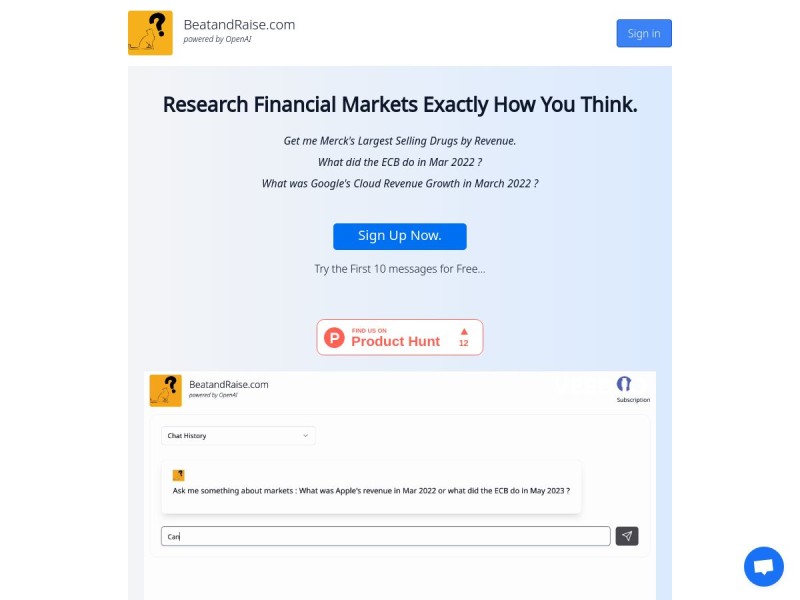 BeatandRaise.com, powered by OpenAI, is a financial markets AI tool that allows users to ask detailed questions about publicly traded US companies and receive answers based on data from earnings reports. Leveraging AI advances, it retrieves numbers and context directly from the original source, thereby facilitating informed investment decisions.
Ask any financial question: Query about income statements, balance sheets, guidance, CEO comments, or anything else from the earnings report of any US-listed company.
Contextual data extraction: AI tools read and retrieve numbers and context together, unlike traditional systems that separate them.
Automated source identification: Capable of identifying and retrieving data from the right sources based on the question context.
Improved accessibility: Reconstructs financial infrastructure to reduce barriers in accessing financial information, utilizing publicly available data and AI reading and writing capabilities.
Pricing Type: Free Trial
Platform(s): Web
---
Share this AI Tool:
---
Need custom AI solutions for your business?
At AI Scout Solutions, we build AI tools tailored to your unique requirements. Get in touch with us and explore the possibilities of our team creating custom AI solutions tailored for your needs.
Learn More
Alternatives