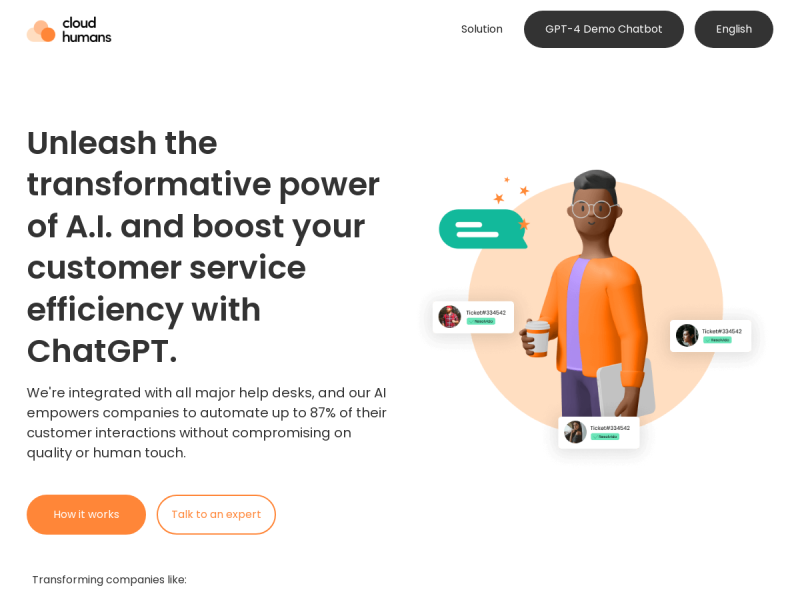 claudIA by Cloud Humans is an AI-powered chatbot that integrates seamlessly with major help desks to automate up to 87% of customer interactions while maintaining quality and a personalized tone of voice.
Automated customer interactions: Automate up to 87% of customer interactions without compromising on quality or personalization
ClaudIA, your super agent: Use claudIA, an innovative AI chatbot powered by ChatGPT-4, to solve complex problems and provide secure and accurate answers with a customized tone of voice
Increase CX efficiency: Free up your team to focus on more complex cases by allowing claudIA to handle up to 87% of calls, effectively emulating your best agents
Instant and high-quality responses: Ensure exceptional response time and quality as claudIA responds and clarifies with impressive human-like attributes, ensuring your customers never wait for more than a few seconds
Pricing Type: Contact for Pricing
Platform(s): Integrations/Plugins, Web
---
Share this AI Tool:
---
Need custom AI solutions for your business?
At AI Scout Solutions, we build AI tools tailored to your unique requirements. Get in touch with us and explore the possibilities of our team creating custom AI solutions tailored for your needs.
Learn More
Alternatives