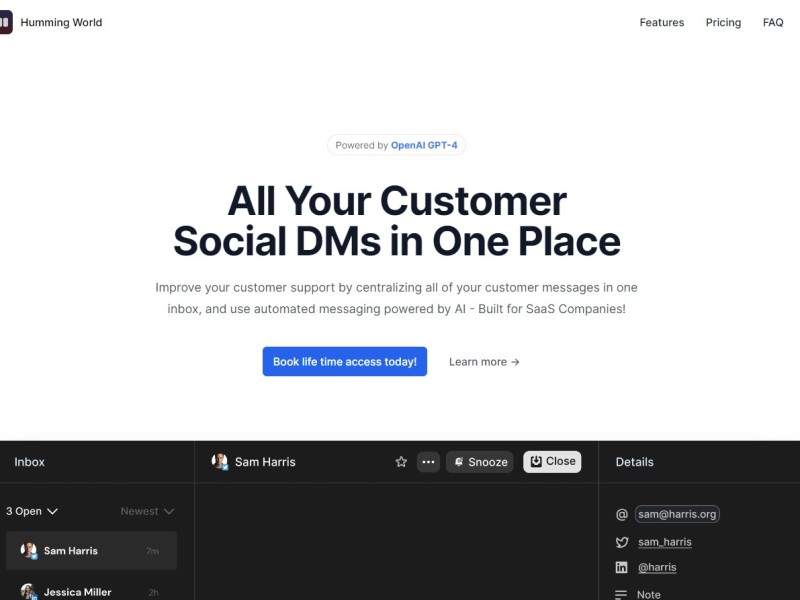 Humming World is an AI-powered customer messaging platform that centralizes all customer messages from social media accounts in one inbox, allowing for faster response times and increased productivity.
Automated Messaging: AI-powered autoresponder that replies to new messages automatically
Centralized Workflow: Monitor all social media accounts in one place, prioritize messages based on importance, and access message history for each customer
Pre-built Integrations: Create tickets with pre-built integrations like Jira, Salesforce, Stripe, and Slack without leaving Humming World
Fast Workflow: Access inbox with simple keyboard shortcuts and respond to messages quickly and easily with no loading screens or spinning wheels
Pricing Type: Paid
Price: $60/yr
Platform(s): Web
Promos: $20 for Lifetime Access (First 100 Signups)
---
Share this AI Tool:
---
Need custom AI solutions for your business?
At AI Scout Solutions, we build AI tools tailored to your unique requirements. Get in touch with us and explore the possibilities of our team creating custom AI solutions tailored for your needs.
Learn More
Alternatives