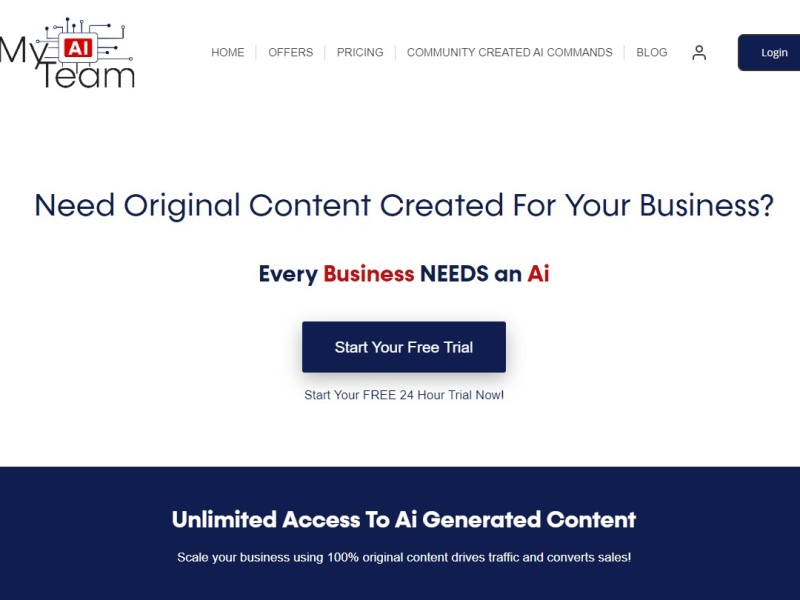 MyAiTeam is an AI-powered content creation tool that revolutionizes business content generation. With access to AI-generated art and text, users can enhance productivity and explore a unique AI Prompt Marketplace for superior prompts, unlocking unparalleled creativity and business success.
AI-Generated Text: Instantly generate full-sized blogs, detailed articles, and website/ad copy on any topic in the world.
AI-Generated Art: Access a library of stock images or have the AI team create 100% original content for your posts and designs.
Unlimited Content Access: Scale your business with unlimited access to AI-generated content that drives traffic and converts sales.
Easy-to-Use Interface: Designed to be user-friendly, even for those without technical expertise, allowing anyone to create engaging content effortlessly.
Pricing Type: Free Trial
Price: Plans from $97/mo
Platform(s): Web
Promos: Use Code scout10
---
Share this AI Tool:
---
Need custom AI solutions for your business?
At AI Scout Solutions, we build AI tools tailored to your unique requirements. Get in touch with us and explore the possibilities of our team creating custom AI solutions tailored for your needs.
Learn More
Alternatives