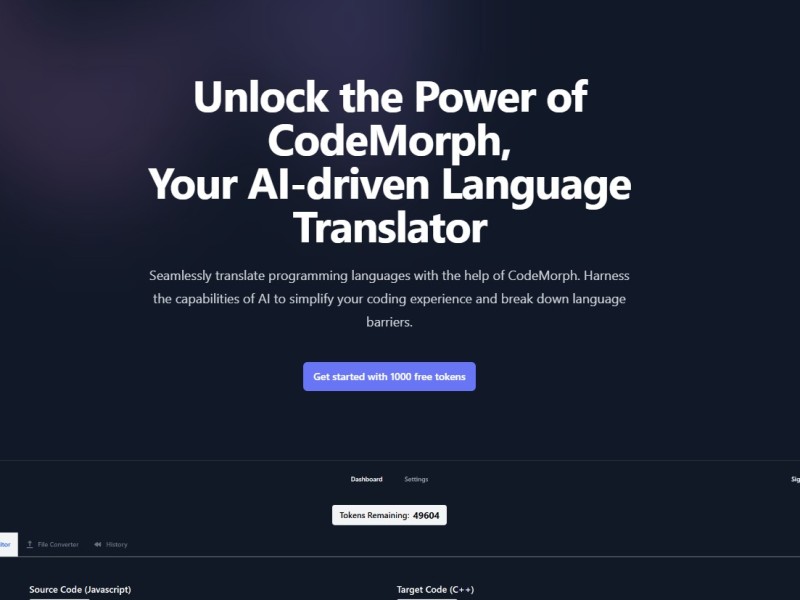 CodeMorph is an AI-driven language translator tool that enables seamless translation between programming languages. With CodeMorph, users can effortlessly convert code, break down language barriers, and accelerate their development process.
AI-Powered Code Translation: Experience accurate and efficient 1:1 code translation using cutting-edge machine learning algorithms.
Secure and Reliable Conversion: Ensure the safety and reliability of your code with CodeMorph's secure AI algorithms.
Accurate Syntax Transformation: Benefit from precise syntax transformation as CodeMorph's intelligent algorithms accurately convert code syntax while maintaining code logic.
Effortless Code Translation: Easily translate your code between programming languages, customize the output, and download the translated file with the user-friendly interface of CodeMorph.
Pricing Type: Free Trial
Price: Plans from $10/mo
Platform(s): Web
---
Share this AI Tool:
---
Need custom AI solutions for your business?
At AI Scout Solutions, we build AI tools tailored to your unique requirements. Get in touch with us and explore the possibilities of our team creating custom AI solutions tailored for your needs.
Learn More
Alternatives