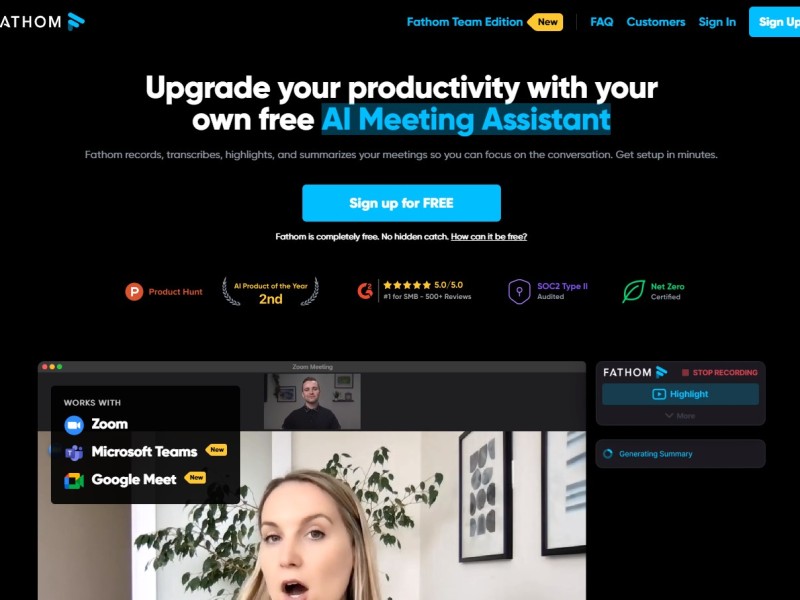 Fathom is a free AI Meeting Assistant that enhances productivity by recording, transcribing, highlighting, and summarizing meetings. With Fathom, users can focus on the conversation while the AI takes care of capturing and summarizing important information.
Automatic Meeting Summaries: Fathom instantly summarizes the spoken content of Zoom calls, providing fully transcribed and highlighted moments for easy reference.
Multi-Language Support: Fathom supports seven languages, including English, French, Spanish, Italian, German, and Portuguese, ensuring accessibility for users worldwide.
Integration with Productivity Tools: Easily copy and paste perfectly formatted summaries and action items to platforms like Google Docs, Gmail, or preferred task managers, eliminating the need for manual note-taking.
CRM Integration: Fathom generates and syncs call notes to CRM systems, streamlining data entry and ensuring seamless organization of call-related information.
Pricing Type: Free
Platform(s): Integrations/Plugins
---
Share this AI Tool:
---
Need custom AI solutions for your business?
At AI Scout Solutions, we build AI tools tailored to your unique requirements. Get in touch with us and explore the possibilities of our team creating custom AI solutions tailored for your needs.
Learn More
Alternatives