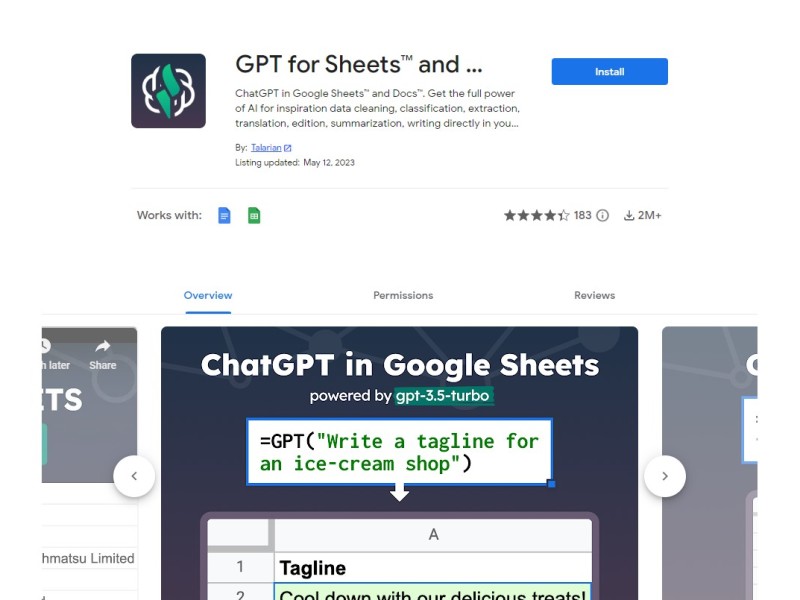 GPT for Sheets™ and Docs™ is an AI tool that brings the power of OpenAI's ChatGPT and GPT-3 models to Google Sheets™ and Google Docs™. It allows users to perform a variety of tasks on text, including writing, editing, extracting, translating, summarizing, and more.
AI-powered functions: Access custom functions to leverage the AI capabilities of ChatGPT and GPT-3 in Google Sheets™ and Docs™
Multiple tasks: Perform tasks such as generating blog post ideas, writing paragraphs, cleaning up data, classifying content, summarizing, and more
Easy experimentation: Experiment with hyperparameters like temperature, model selection, and maxTokens to fine-tune the AI's output
Integration with Google Workspace: Seamlessly integrate GPT for Sheets™ and Docs™ with other popular Google Workspace tools
Pricing Type: Free
Platform(s): Integrations/Plugins
---
Share this AI Tool:
---
Need custom AI solutions for your business?
At AI Scout Solutions, we build AI tools tailored to your unique requirements. Get in touch with us and explore the possibilities of our team creating custom AI solutions tailored for your needs.
Learn More
Alternatives