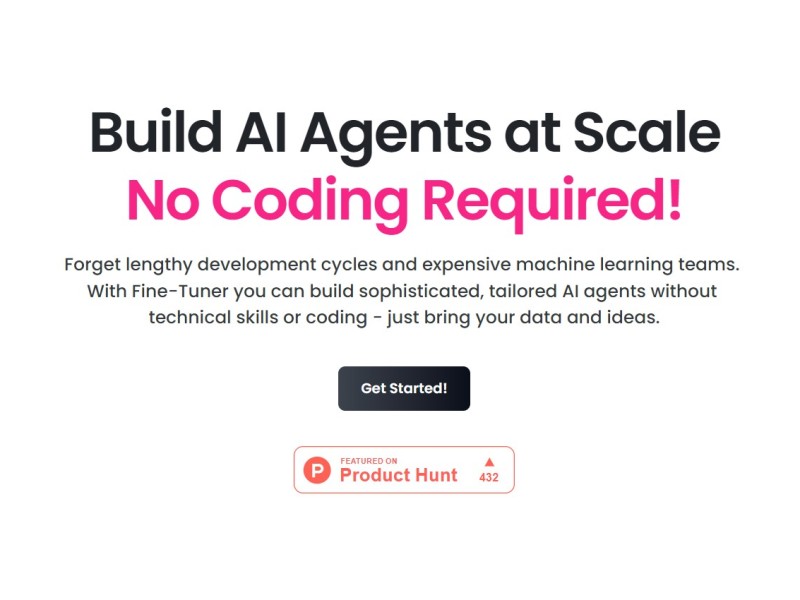 Fine-Tuner is a powerful AI tool that allows users to build sophisticated and tailored AI agents at scale without any technical skills or coding required. With its no-code solution, users can bring their data and ideas and transform them into powerful AI solutions capable of handling large amounts of data and users.
Pre-built AI Agents: Over a dozen specialized AI agents are readily available for various use cases, such as question answering, document search, and process automation.
Customizable AI Agents: Users can build AI agents as unique as their vision by easily loading data from PDFs, CSVs, PPTs, URLs, and more, and continuously improving them with new data. They have control over their agent's learning and can assign tools and plugins to enhance its capabilities.
Seamless Integration: Fine-Tuner provides a simple API and plugins that enable users to connect their AI agents to any data source, model, or third-party service without coding, allowing for sophisticated automations and workflows.
Unlimited Secure Data Storage: With dedicated storage on Pinecone, users can store unlimited training data, models, and vectors. Their data remains secure in SOC 2 Type II certified, GDPR-ready infrastructure designed specifically for AI.
Pricing Type: Freemium
Price: Paid Plans from €25/mo
Platform(s): API, Web
---
Share this AI Tool:
---
Need custom AI solutions for your business?
At AI Scout Solutions, we build AI tools tailored to your unique requirements. Get in touch with us and explore the possibilities of our team creating custom AI solutions tailored for your needs.
Learn More
Alternatives