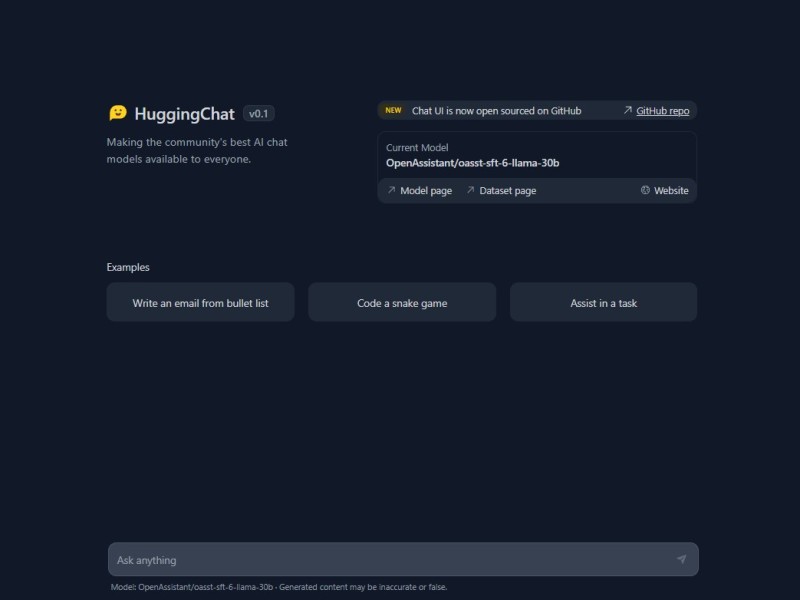 HuggingChat is an open-source AI-powered chatbot available for testing on Hugging Face, offering an alternative to ChatGPT. With 30 billion parameters, HuggingChat can perform various tasks such as drafting articles, solving coding problems, and answering questions.
Open-Source Chatbot: HuggingChat provides an open-source alternative to ChatGPT, allowing developers to explore and customize the chatbot's capabilities.
Diverse Task Support: The chatbot is equipped to handle tasks like article drafting, coding problem solving, and answering queries.
Future Assistant Development: The project aims to evolve beyond ChatGPT, building an assistant capable of performing meaningful work, utilizing APIs, conducting dynamic research, and offering personalization and extensibility.
Privacy-Focused: HuggingChat enforces a strict privacy model, ensuring user messages are not stored or shared for research or training purposes, although future iterations may enable voluntary conversation sharing with researchers.
Pricing Type: Free
Platform(s): Open Source, Web
---
Share this AI Tool:
---
Need custom AI solutions for your business?
At AI Scout Solutions, we build AI tools tailored to your unique requirements. Get in touch with us and explore the possibilities of our team creating custom AI solutions tailored for your needs.
Learn More
Alternatives