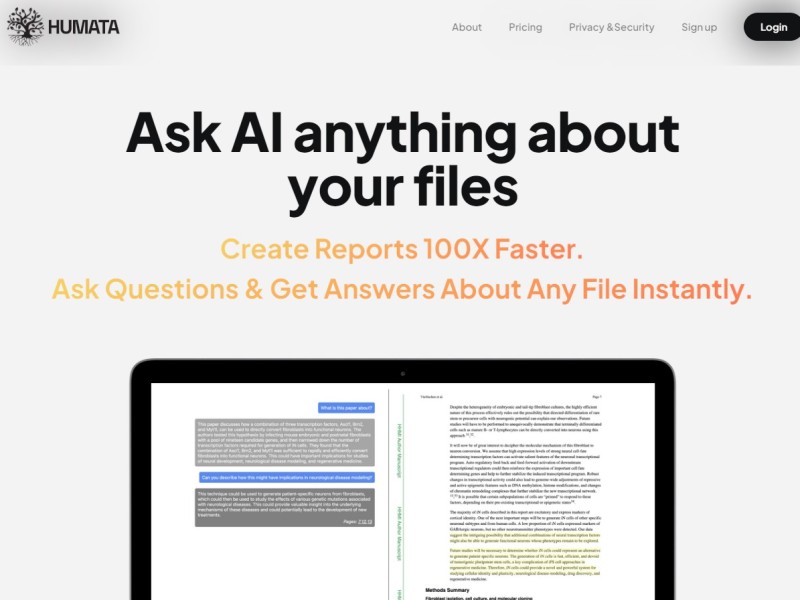 Humata.AI is an AI-powered tool that enables users to extract valuable insights and information from various types of files. With its advanced capabilities, users can summarize lengthy papers, ask questions and receive instant answers, generate written content faster, and analyze legal documents and technical papers with remarkable speed.
Summarization: Transform lengthy papers into concise summaries, enabling users to learn and gain insights 100 times faster
Instant Q&A: Ask complex questions related to files and receive easy-to-understand answers instantly
Efficient Writing: Automatically generate detailed insights and content based on files, helping users write reports, papers, and other tasks 10 times faster
Legal and Technical Analysis: Analyze legal documents and technical papers swiftly, enabling quick understanding and extraction of relevant information
Pricing Type: Freemium
Price: Paid Plan for $15/mo
Platform(s): Web
---
Share this AI Tool:
---
Need custom AI solutions for your business?
At AI Scout Solutions, we build AI tools tailored to your unique requirements. Get in touch with us and explore the possibilities of our team creating custom AI solutions tailored for your needs.
Learn More
Alternatives