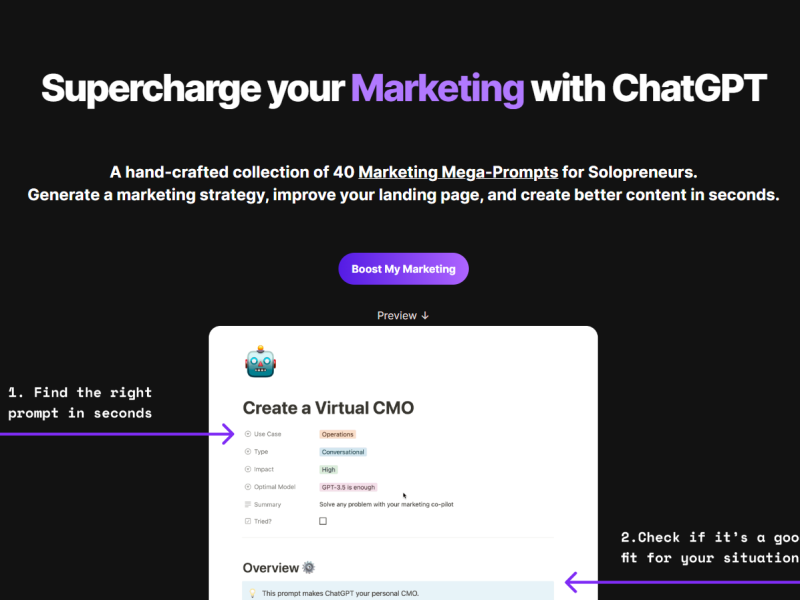 40 exceptional Marketing Mega-Prompts for Solopreneurs, helping them supercharge their marketing efforts. With features like defining marketing strategies, brainstorming ideas, getting honest feedback, and outsourcing tasks, users can save time and achieve better results in their marketing endeavors.
Define Your Marketing Strategy: Utilize prompts to define your positioning story, describe your marketing funnel, and define your storytelling arch.
Brainstorm Ideas: Kick-start various tasks with ChatGPT-generated ideas, such as tweet ideas, influencer marketing ideas, subject line variations, and catchy product names.
Get Honest Feedback: Improve your work by getting feedback through prompts, including talking to a coach for Solopreneurs, getting marketing copy reviewed, and receiving feedback on new product ideas.
Outsource Boring Tasks: Let ChatGPT handle marketing tasks you dislike, such as writing cold email templates, generating questions for customer interviews, defining landing page structure, and creating in-depth content plans.
Pricing Type: Paid
Price: $39 One-Time Payment
Platform(s): Web
---
Share this AI Tool:
---
Need custom AI solutions for your business?
At AI Scout Solutions, we build AI tools tailored to your unique requirements. Get in touch with us and explore the possibilities of our team creating custom AI solutions tailored for your needs.
Learn More
Alternatives