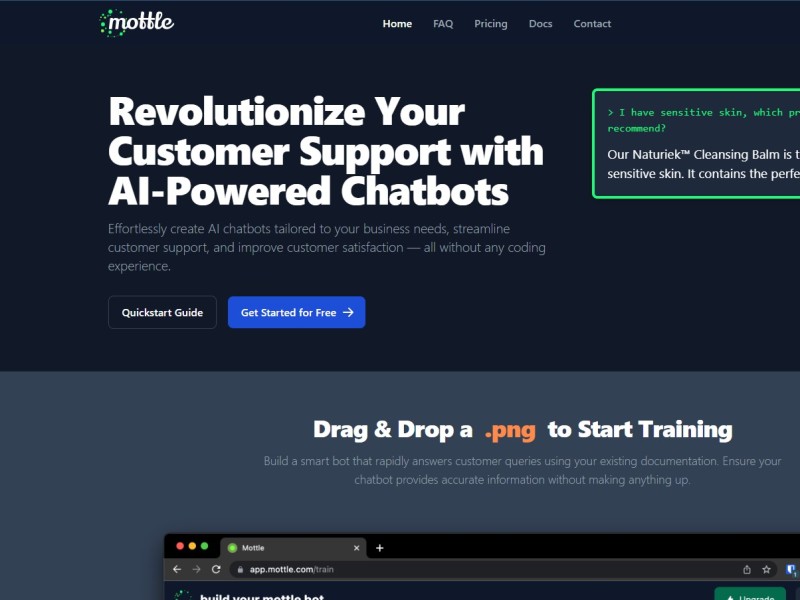 Introducing Mottle, a robust chatbot building platform that will transform the way you handle customer assistance. By using your existing documentation, you can quickly create unique, intelligent chatbots and put an end to time-consuming, lengthy client enquiries. You may use Mottle to build product knowledge bots, customer support bots, and more that are all customised to your unique business requirements. Put a link to your bot on your website or integrate it with Slack, Microsoft Teams, or Facebook Messenger without any issues. Mottle is the ideal option for business owners wishing to improve customer service, save time, and cut expenses because to its user-friendly design and powerful capabilities. Experience the future of consumer engagement by using Mottle right now.
Pricing Type: Freemium
Price: $19.95/mo
Platform(s): API, Discord Bot, Integrations/Plugins, Web
---
Share this AI Tool:
---
Need custom AI solutions for your business?
At AI Scout Solutions, we build AI tools tailored to your unique requirements. Get in touch with us and explore the possibilities of our team creating custom AI solutions tailored for your needs.
Learn More
Alternatives