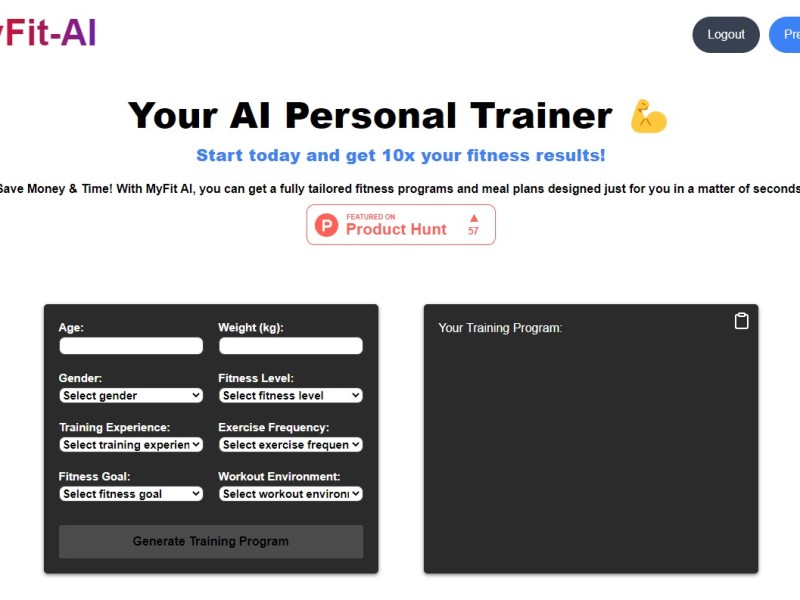 Myfit-AI is your new AI personal trainer! Our app takes the guesswork out of reaching your fitness goals by providing you with a customized workout plan and nutrition program tailored to your specific needs and preferences. Powered by OpenAI GPT API.
Customized Fitness Plans: Receive a personalized training program designed specifically for your unique needs and preferences.
Easy-to-Use Form: Fill out a simple form with basic information to generate your personalized fitness plan effortlessly.
AI-Powered Personal Trainer: Benefit from the efficiency and accuracy of an AI-guided approach to enhance your workout effectiveness and motivation.
Use Cases: Achieve your fitness goals by following a training program customized to your needs, save time and effort with the AI-generated optimized fitness plan, and embrace a tailored fitness journey for unlocking your full potential.
Pricing Type: Freemium
Price: $5 (One-Time Payment)
Platform(s): Web
---
Share this AI Tool:
---
Need custom AI solutions for your business?
At AI Scout Solutions, we build AI tools tailored to your unique requirements. Get in touch with us and explore the possibilities of our team creating custom AI solutions tailored for your needs.
Learn More
Alternatives