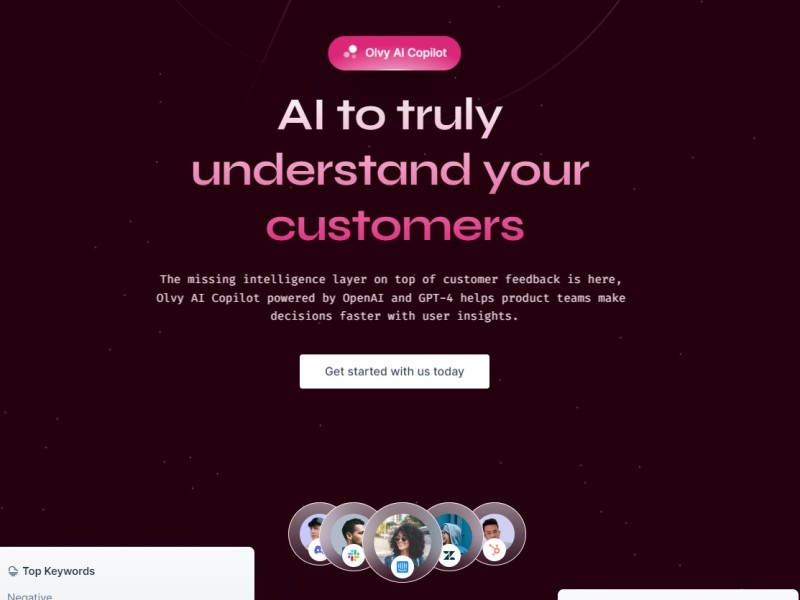 Olvy AI Copilot, powered by OpenAI and GPT-4, is an intelligent AI tool that assists product teams in making faster decisions by providing valuable user insights. It acts as the missing intelligence layer on top of customer feedback, helping teams gain actionable information to improve their products.
Automatic feedback detection: Separate signal from noise with automatic detection and organization of valuable feedback
Auto-tagging: Save time by automatically organizing and tagging feedback for efficient management
Feedback translation: Overcome language barriers with automatic translation of user feedback, enabling understanding across multiple languages
AI-powered summarization: Get quick summaries and reports on top user needs, along with detailed metadata and recommendations
Pricing Type: Free Trial
Price: $60/mo
Platform(s): Discord Bot, Integrations/Plugins, Web
---
Share this AI Tool:
---
Need custom AI solutions for your business?
At AI Scout Solutions, we build AI tools tailored to your unique requirements. Get in touch with us and explore the possibilities of our team creating custom AI solutions tailored for your needs.
Learn More
Alternatives