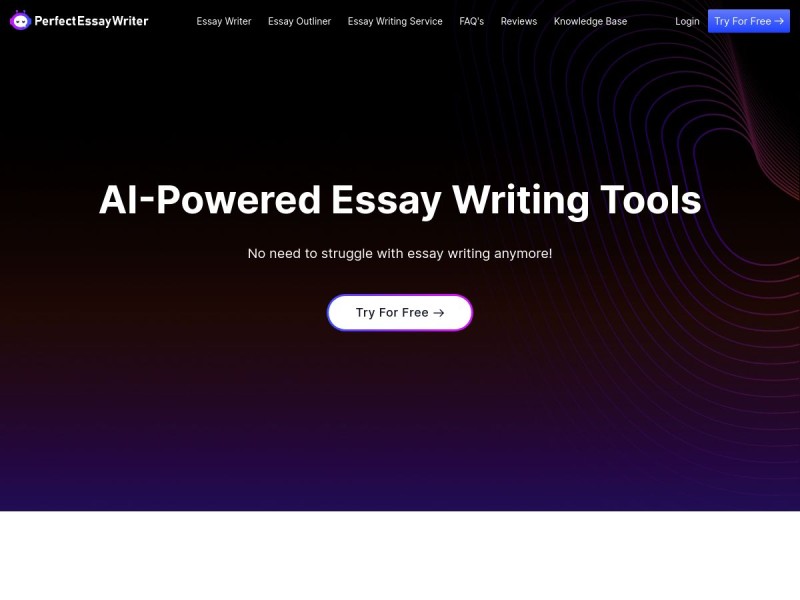 PerfectEssayWriter.AI is an AI-powered essay writing tool that aims to make essay writing easy and enjoyable for students. With its advanced AI engine, this tool automatically generates essays, outlines, and research papers in just minutes, allowing users to focus on learning.
Personalized Assistance: The AI-driven tools analyze input and preferences to generate customized results, ensuring essays are tailored to specific requirements and style.
Efficient Workflow: Streamline the writing process by generating topic ideas, thesis statements, and checking grammar and style, saving valuable time and effort.
Accuracy and Consistency: AI algorithms ensure accurate citations, grammar, and consistent writing style throughout the essay, reducing the chances of errors that can impact grades.
Continuous Improvement: The AI-powered tools learn and improve over time, adapting to the user's writing style and preferences for increasingly accurate and relevant results.
Pricing Type: Free Trial
Platform(s): Web
---
Share this AI Tool:
---
I've recommended this AI writer to all my writer friends. It's a well-kept secret for creating amazing content.
This AI writer tool has exceeded my expectations. It's like having a writing mentor in my pocket.
This AI tool ushers me into Elysium, where writing becomes an ethereal experience with limitless possibilities.
all thanks to AI. It's like having a writing tutor on demand.
A symphony conductor for my thoughts – this AI essay tool orchestrates perfection.
Need custom AI solutions for your business?
At AI Scout Solutions, we build AI tools tailored to your unique requirements. Get in touch with us and explore the possibilities of our team creating custom AI solutions tailored for your needs.
Learn More
Alternatives