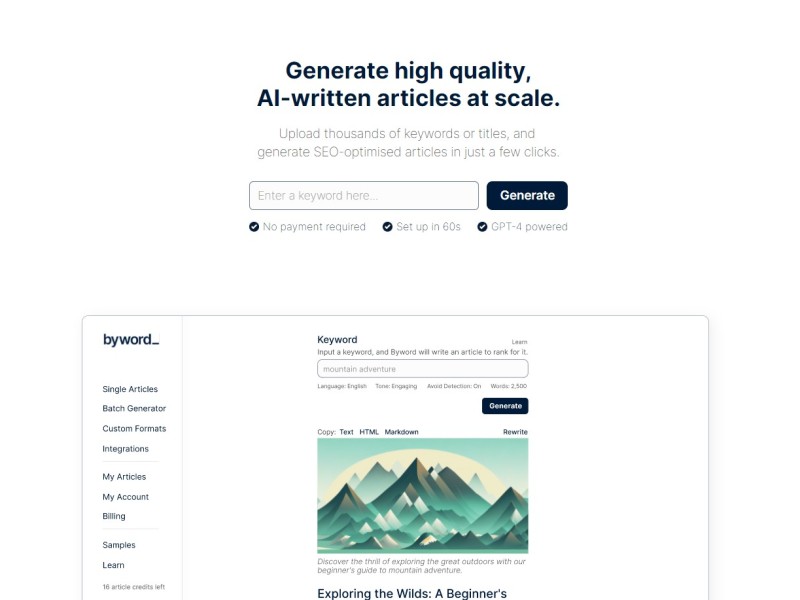 Byword is an advanced AI-powered platform that enables users to generate high-quality, SEO-optimized articles at scale. With its state-of-the-art algorithms and a range of advanced features, Byword streamlines the content creation process and offers seamless integrations for efficient publishing.
Image Generation: Automatically generate four AI images to accompany each article, saving time on visual content creation
Undetectable AI: Utilize Byword's cutting-edge algorithms to bypass major AI content detectors and ensure authenticity
Multi-Language Support: Write for non-English audiences with ease, as Byword provides native support for nine additional languages
Social Post Generation: Generate tailored social media posts from articles with a single click, optimized for platforms like Facebook, Instagram, Twitter, and LinkedIn
Pricing Type: Free Trial
Price: Plans from $99/mo
Platform(s): Web
---
Share this AI Tool:
---
Need custom AI solutions for your business?
At AI Scout Solutions, we build AI tools tailored to your unique requirements. Get in touch with us and explore the possibilities of our team creating custom AI solutions tailored for your needs.
Learn More
Alternatives