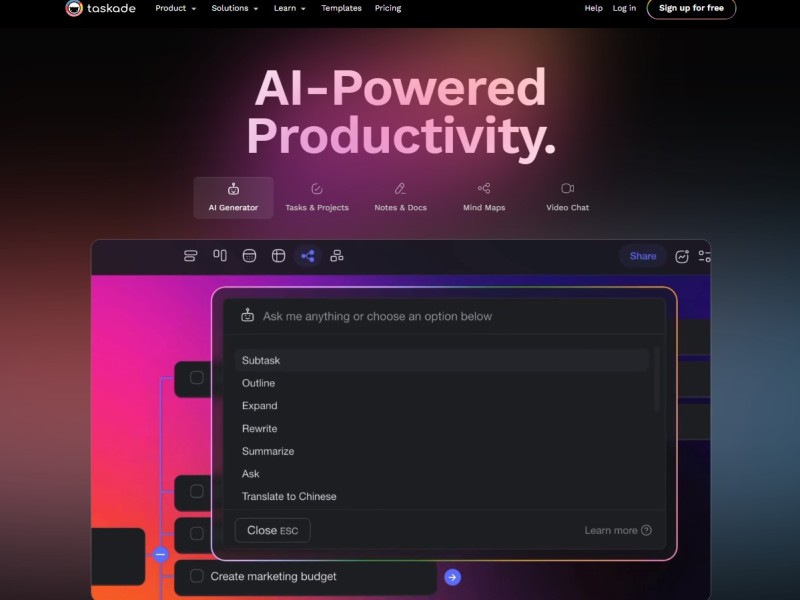 Taskade AI is an all-in-one productivity tool that combines five powerful AI-powered features to supercharge team collaboration and efficiency. With Taskade AI, users can automate tasks, generate dynamic workflows, brainstorm in mind maps, chat with an AI assistant, and visualize notes and documents.
Automate 700+ Tasks: Boost productivity by automating various tasks across marketing, sales, support, HR, startups, and agencies with the help of AI-powered chat bots, project assistants, and workflow automation.
Generate Workflows: Spark creativity and streamline project management by generating dynamic to-do lists, flow charts, mind maps, org charts, and more. Visualize projects in different views like lists, boards, calendars, mind maps, org charts, and action views.
Chat with AI: Bring projects to life with an AI assistant for brainstorming and task coordination. Chat with tasks, documents, and more within Taskade's workspace.
Visualize Notes: Embrace a smart outlining experience that mirrors the brain's natural organization. Create infinite connections and levels of hierarchy in real-time sync.
Pricing Type: Freemium
Platform(s): Browser Extension, Desktop App, Mobile App
---
Share this AI Tool:
---
Need custom AI solutions for your business?
At AI Scout Solutions, we build AI tools tailored to your unique requirements. Get in touch with us and explore the possibilities of our team creating custom AI solutions tailored for your needs.
Learn More
Alternatives