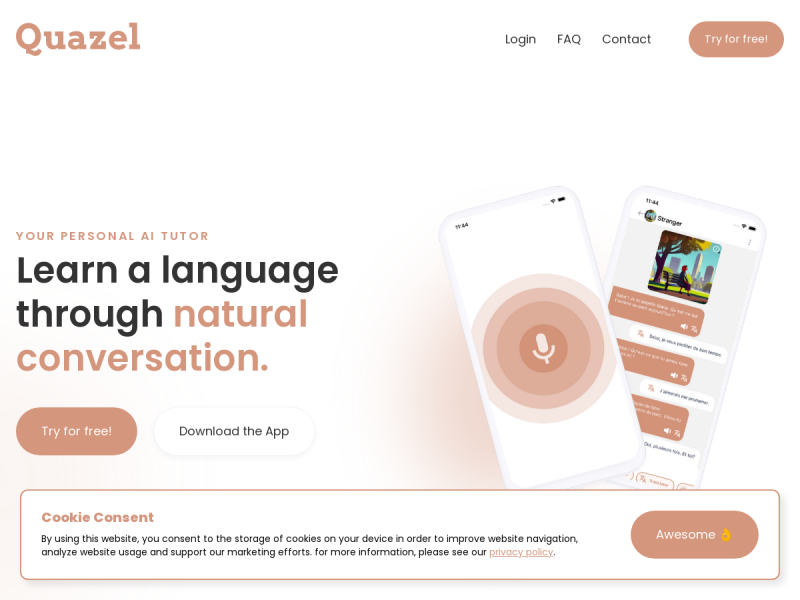 Quazel is an AI-powered language learning app that allows users to practice speaking in a foreign language through natural conversations. With Quazel, users can access 21 languages, solve real-world quests, and get instant feedback on their grammar and vocabulary.
21 Languages: Learn any of the 21 languages that Quazel currently supports, including English, Spanish, French, Japanese, and more.
Real-world quests: Practice and apply your skills by solving fun real-world quests, such as ordering a croissant from a bakery in Paris.
Customizable topics: Choose from a wide range of customizable topics that interest you, or build your own scene by selecting your own topic and conversation partner.
Real-time feedback: Get instant feedback on your grammar, and vocabulary as you practice speaking.
Pricing Type: Free Trial
Platform(s): Mobile App, Web
---
Share this AI Tool:
---
Need custom AI solutions for your business?
At AI Scout Solutions, we build AI tools tailored to your unique requirements. Get in touch with us and explore the possibilities of our team creating custom AI solutions tailored for your needs.
Learn More
Alternatives