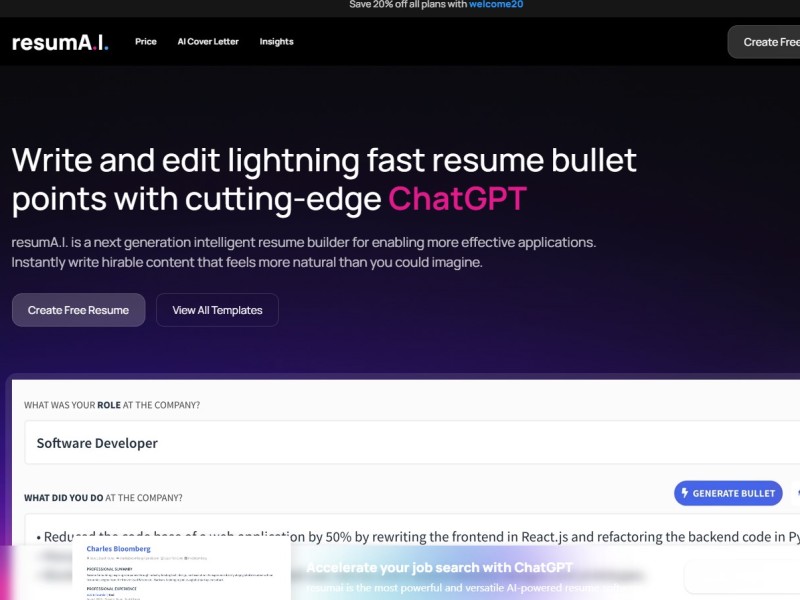 ResumAI is an AI-powered resume builder that offers a seamless and efficient solution for creating professional resumes. With its cutting-edge ChatGPT technology, users can generate hirable content, tailor their resumes to specific job descriptions, and even create matching cover letters.
Instant content generation: Quickly write and edit resume bullet points with the help of the AI Writer, which produces natural and effective content
Keyword optimization: Tailor your resume by incorporating keywords from targeted job descriptions to increase your chances of being noticed by recruiters
Customizable templates: Choose from a wide selection of over 340 real-life resume templates and easily customize them to suit your preferences
Cover letter builder: Generate a tailored cover letter that complements your resume with just one click, ensuring a professional and cohesive job application
Pricing Type: Free Trial
Price: $29/mo
Platform(s): Web
Promos: Save 20% off all plans with welcome20
---
Share this AI Tool:
---
Need custom AI solutions for your business?
At AI Scout Solutions, we build AI tools tailored to your unique requirements. Get in touch with us and explore the possibilities of our team creating custom AI solutions tailored for your needs.
Learn More
Alternatives