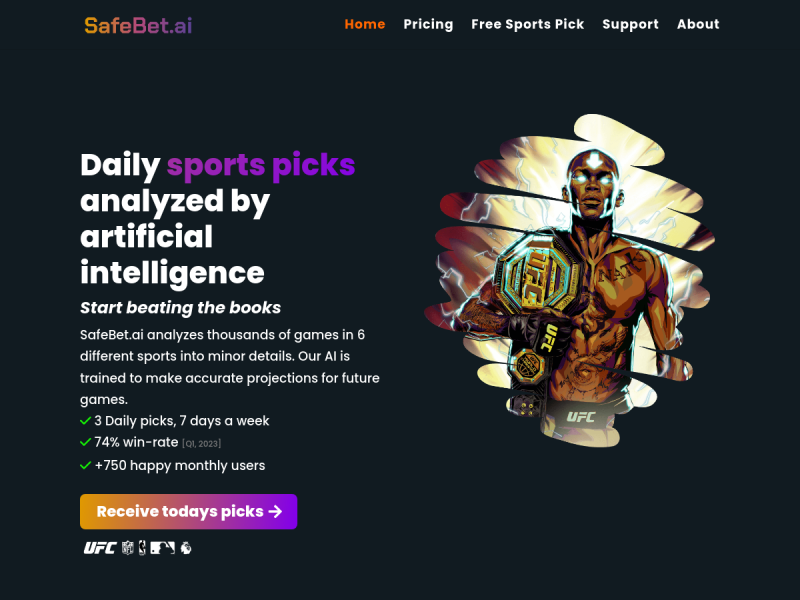 SafeBet is a cutting-edge AI platform that provides daily sports picks analyzed by artificial intelligence, empowering users to make informed decisions and beat the odds in sports betting.
AI-Driven Sports Picks: Benefit from AI-analyzed daily picks in 6 different sports, backed by an impressive 74% win-rate as of Q1, 2023.
AI Safe Score: Each pick is accompanied by a safe score ranging from 1 to 99, calculated based on various variables such as booking odds, SafeBet.ai calculated odds, historic matchups, and key player development.
Detailed Pick Reports: Gain access to comprehensive pick reports, analyzing 7 sport leagues, and receive emergency bet alerts for timely wagering decisions.
Personalized Strategies: Tailor your betting strategy to your preferences, whether you're a conservative long-term player, aggressive risk-taker, or casual sports wager enthusiast.
Pricing Type: Paid
Price: Paid Plans from $97/mo
Platform(s): Web
---
Share this AI Tool:
---
Need custom AI solutions for your business?
At AI Scout Solutions, we build AI tools tailored to your unique requirements. Get in touch with us and explore the possibilities of our team creating custom AI solutions tailored for your needs.
Learn More
Alternatives