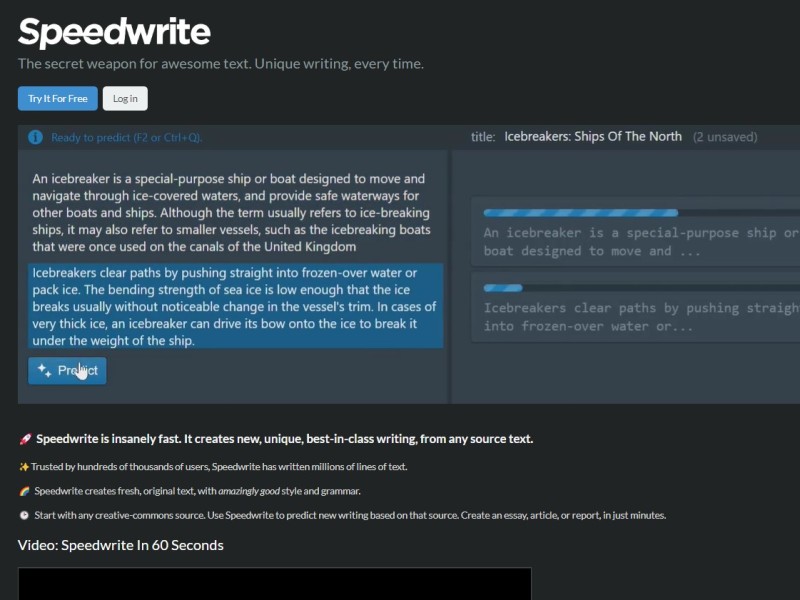 Speedwrite is an AI tool that revolutionizes the writing process by generating unique, well-written text quickly. With its ability to create fresh, original content based on source texts, improve text quality, and adapt to user input, Speedwrite ensures users can produce captivating and original written content effortlessly.
Innovative Writing: Generates new, unique, and high-quality text from any source, offering best-in-class writing that stands out.
Adaptive to User Input: Reacts carefully to user input, ideas, and research, resulting in writing that incorporates the user's unique perspective and originality.
Up-to-Date Information: Employs the latest and most current information provided by the user, allowing for writing that is relevant and avoids recycled or outdated content.
Improved Text Quality: Enhances the quality of input text by intelligently fixing errors and producing fluent and intelligent revisions, ensuring the output is well-written and professional.
Pricing Type: Free Trial
Price: Paid Plans from $8.33/mo
Platform(s): Web
---
Share this AI Tool:
---
Need custom AI solutions for your business?
At AI Scout Solutions, we build AI tools tailored to your unique requirements. Get in touch with us and explore the possibilities of our team creating custom AI solutions tailored for your needs.
Learn More
Alternatives