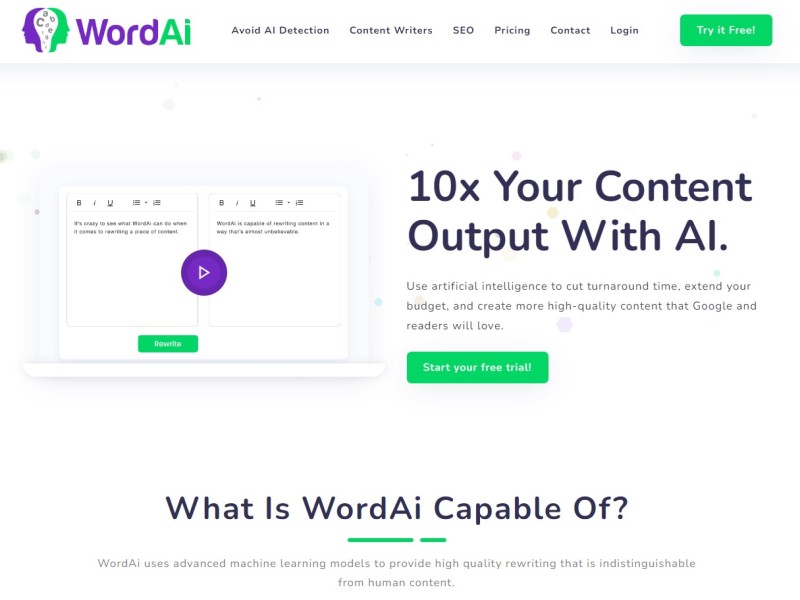 WordAi is an AI tool that leverages advanced machine learning models to provide high-quality rewriting that is virtually indistinguishable from human content. With complete sentence restructuring, improved quality and clarity, and the ability to amplify content, WordAi helps users create more engaging and SEO-friendly content in a fraction of the time.
Complete Sentence Restructuring: Rewrite sentences from scratch while maintaining the same overall meaning, resulting in unique and readable content
Amplify Your Content: Fill out your content calendar and diversify your marketing copy with high-quality content that ranks well on search engines
Extend Your Budget: Create a full SEO content pipeline without breaking the bank, thanks to WordAi's ability to generate more content with limited resources
Control and Customization: Adjust the level of creativity to preserve more of the original content or maximize the SEO impact, and create multiple variations of your content to overcome writer's block
Pricing Type: Free Trial
Price: Plans from $9/mo
Platform(s): API, Web
---
Share this AI Tool:
---
Need custom AI solutions for your business?
At AI Scout Solutions, we build AI tools tailored to your unique requirements. Get in touch with us and explore the possibilities of our team creating custom AI solutions tailored for your needs.
Learn More
Alternatives