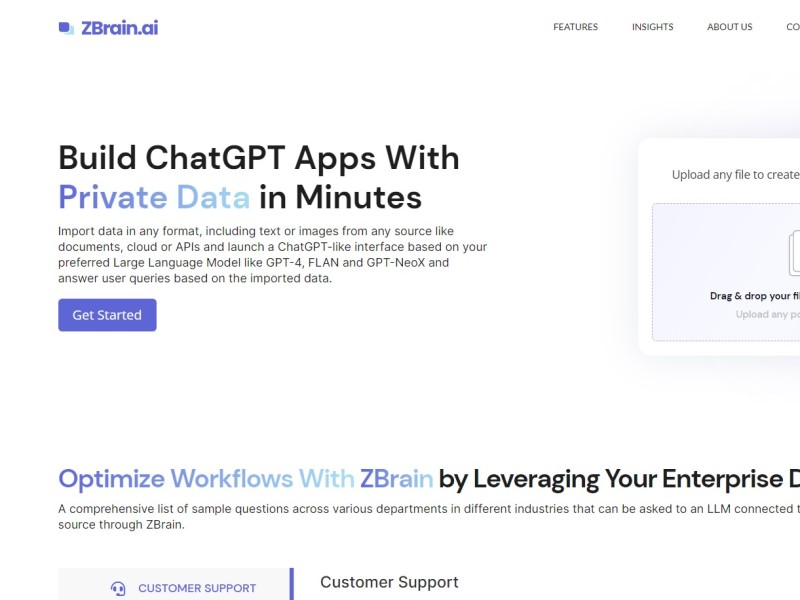 ZBrain is an AI tool that enables users to build ChatGPT-like applications quickly by importing data from various sources and connecting it to their preferred large language models. With features like custom generative AI applications, integration with premier foundation models, and reinforcement learning from human feedback, ZBrain empowers businesses to optimize workflows and enhance productivity.
Import Data and Launch ChatGPT-like Apps: Import data in any format from documents, cloud storage, or APIs to create custom ChatGPT applications that can answer user queries based on the imported data.
Leverage Premier Foundation Models: Fine-tune models with proprietary enterprise data in a private cloud environment and seamlessly switch between large language models like GPT-4, GPT-NeoX, and FLAN.
Accelerate Business Growth: Integrate ZBrain as a prompt-response service into existing tools and products, leveraging its end-to-end AI platform to streamline processes and drive business growth.
Build ChatGPT-like Interfaces with No Code: Utilize the intuitive drag-and-drop ZBrain Flow interface to create complex business logic without the need for coding, connecting multiple models, templates, extraction tools, and more.
Pricing Type: Freemium
Price: Add-Ons from $1
Platform(s): Integrations/Plugins, Web
---
Share this AI Tool:
---
Need custom AI solutions for your business?
At AI Scout Solutions, we build AI tools tailored to your unique requirements. Get in touch with us and explore the possibilities of our team creating custom AI solutions tailored for your needs.
Learn More
Alternatives