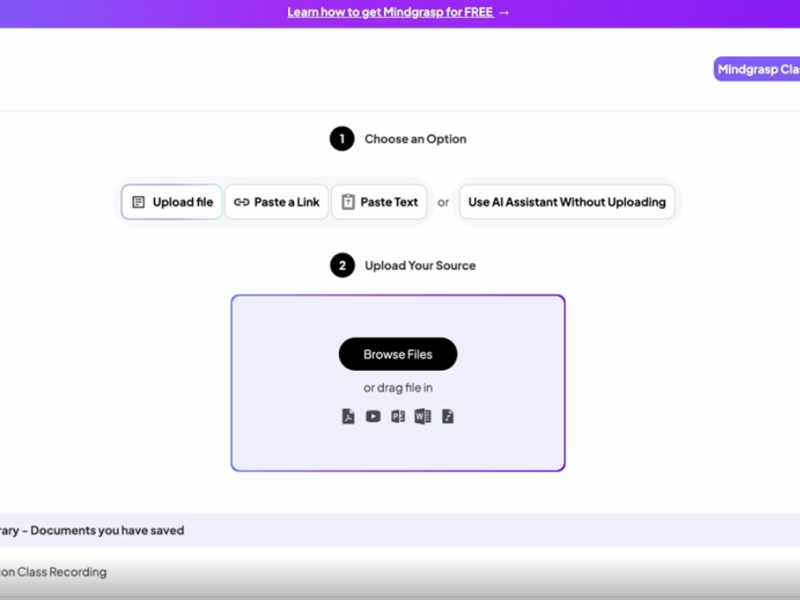 Mindgrasp instantly creates accurate notes and answers questions from any Document, PDF, YouTube Video, Zoom Meeting, Webinar Recording, Podcast and much more! Our AI gives you the ability to talk to your content. Ask your personalized assistant whatever you do not understand. Analogies, simplified explanations, criticisms, testing material, nuanced descriptions – whatever you need. We put a judgment-free tutor in every file.
Increased Reading Speed: Quickly generate detailed notes and summaries from any uploaded material, saving valuable time.
Upload Anything: Analyze a wide range of media types including documents, textbooks, article links, and video/audio lectures by simply dragging, dropping, or pasting a link.
Faster Learning: Instantly generate notes, summaries, and answers to questions, enabling users to spend less time reading/watching and more time focusing on learning.
Interactive Personal Assistant: Engage in conversations with a judgment-free tutor embedded within the tool to seek explanations, receive analogies, criticisms, and nuanced descriptions for a better understanding of the content.
Pricing Type: Free Trial
Price: Plans from $6.99/mo
Platform(s): API, Web
---
Share this AI Tool:
---
Need custom AI solutions for your business?
At AI Scout Solutions, we build AI tools tailored to your unique requirements. Get in touch with us and explore the possibilities of our team creating custom AI solutions tailored for your needs.
Learn More
Alternatives