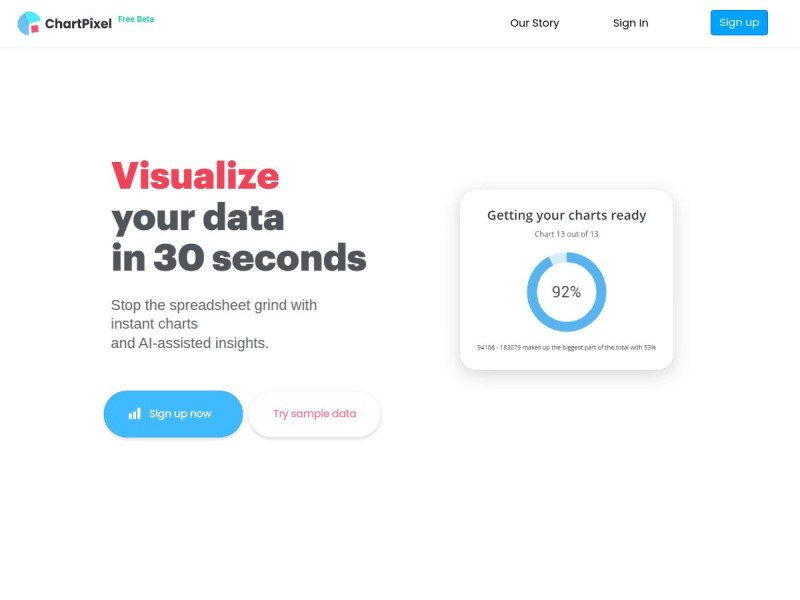 ChartPixel empowers users to effortlessly transform raw data into insightful and visually appealing charts in mere seconds. Eliminating the complexity of data analysis tools, it offers an intuitive way to grasp data patterns and craft compelling presentations with AI-assisted annotations.
Instant Visualization: Automatically transform uploaded data into an array of explained charts and insights, enhancing comprehension.
Smart Data Analysis: Auto-selects relevant columns, cleans up messy data, and suggests meaningful features for comprehensive data interpretation.
From Raw Data to Presentation: Seamlessly convert data insights into PowerPoint presentations that are both visually impressive and statistically accurate.
Web Data Integration: Utilize a keyword search tool to find and integrate web data into stunning charts, broadening analysis capabilities.
Pricing Type: Free
Platform(s): Web
---
Share this AI Tool:
---
Need custom AI solutions for your business?
At AI Scout Solutions, we build AI tools tailored to your unique requirements. Get in touch with us and explore the possibilities of our team creating custom AI solutions tailored for your needs.
Learn More
Alternatives