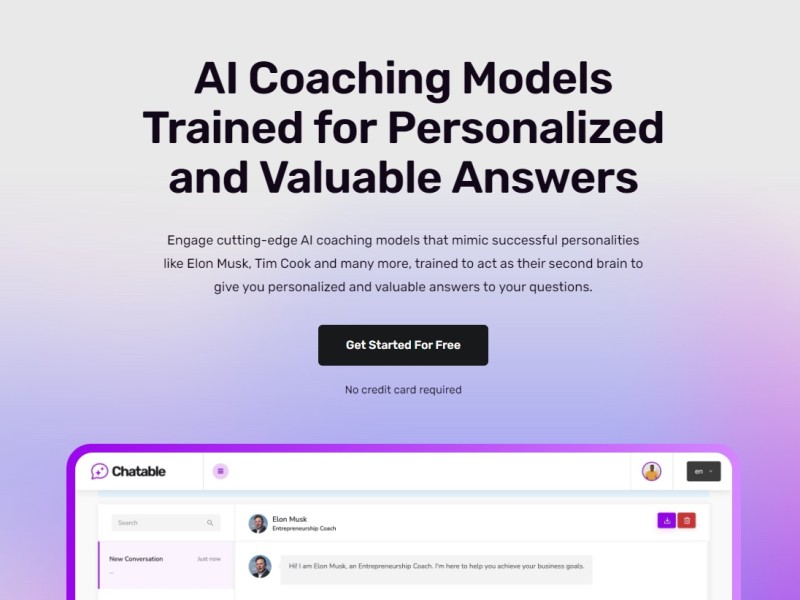 Chatable is an AI tool that harnesses cutting-edge AI coaching models to provide personalized and valuable answers to users' questions. With AI chatbots and a wide range of AI writing templates, users can access the expertise of successful personalities like Elon Musk and Tim Cook to enhance their writing and gain valuable insights.
AI Chatbot Conversations: Engage in chat conversations with AI coaching models that simulate the thinking and experiences of successful personalities.
Personalized and Valuable Answers: Receive responses tailored to your queries based on the AI coaching models' knowledge and insights.
AI Writing Templates: Access over 50 AI writing templates to create high-quality content for personal or brand needs.
Enhanced Writing Skills: Improve your writing skills and create compelling content with the guidance and expertise of AI coaching models.
Pricing Type: Freemium
Price: Paid Plan for $10/mo
Platform(s): Web
---
Share this AI Tool:
---
Need custom AI solutions for your business?
At AI Scout Solutions, we build AI tools tailored to your unique requirements. Get in touch with us and explore the possibilities of our team creating custom AI solutions tailored for your needs.
Learn More
Alternatives