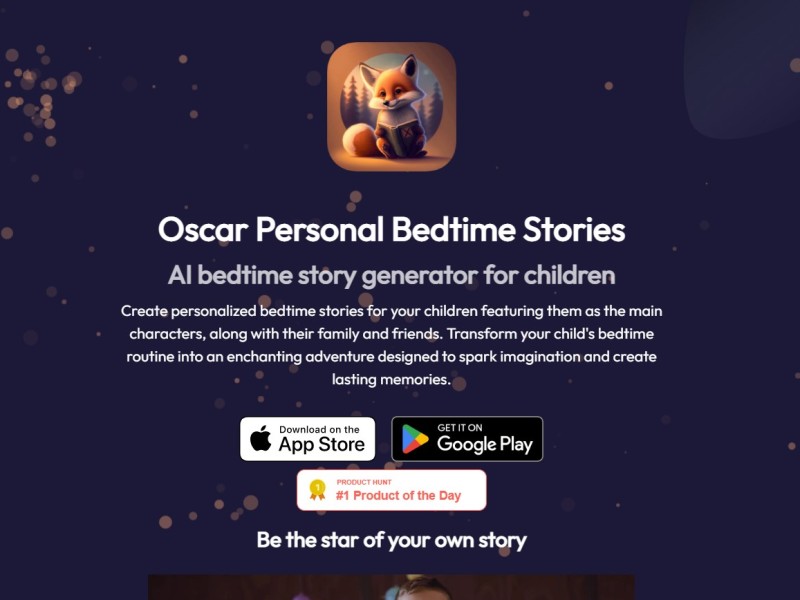 Oscar is an AI bedtime story generator that creates personalized bedtime stories for children, featuring them as the main characters. With Oscar, parents can transform their child's bedtime routine into an enchanting adventure that sparks imagination and creates lasting memories.
Personalized Stories: Create customized bedtime stories featuring your child as the main character, along with family and friends
Valuable Lessons: Stories generated by Oscar are not only entertaining but also embedded with important life lessons, teaching values such as honesty, kindness, courage, empathy, and responsibility
Multiple Languages: Available in multiple languages, allowing children to enjoy stories in their preferred language
Child-Friendly and Easy-to-Use: Oscar ensures that the stories are child-friendly, free of problematic content, and supported by beautiful illustrations. The app is easy to use, making it convenient for busy parents to create personalized bedtime experiences
Pricing Type: Freemium
Price: Offers In-App Purchases
Platform(s): Mobile App
---
Share this AI Tool:
---
Need custom AI solutions for your business?
At AI Scout Solutions, we build AI tools tailored to your unique requirements. Get in touch with us and explore the possibilities of our team creating custom AI solutions tailored for your needs.
Learn More
Alternatives