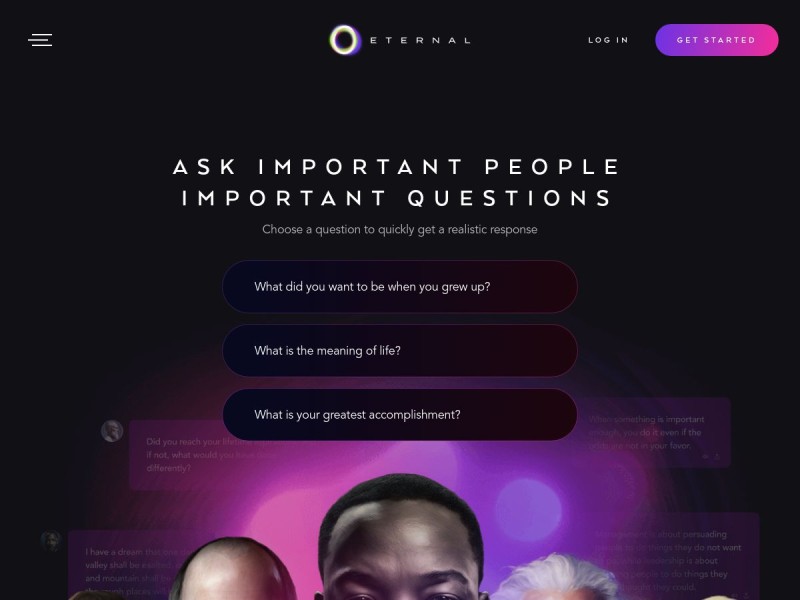 Eternal AI is an innovative tool that allows users to ask important questions to influential figures and receive realistic responses. With a diverse selection of individuals to choose from, users can engage in thought-provoking conversations and gain unique insights.
Realistic Responses: Interact with influential figures and receive realistic responses to your questions, enabling meaningful conversations and insights.
Diverse Selection: Choose from a wide range of individuals, including historical figures, visionaries, thought leaders, and cultural icons, to engage with and gain perspectives from.
Explore Different Topics: Ask questions on various topics, from civil rights and science to spirituality and entertainment, and unlock new perspectives and understanding.
Engage in Thought-Provoking Conversations: Spark intellectual discussions and broaden your horizons by exchanging ideas with influential figures in an immersive AI-powered environment.
Pricing Type: Free Trial
Platform(s): Web
---
Share this AI Tool:
---
Need custom AI solutions for your business?
At AI Scout Solutions, we build AI tools tailored to your unique requirements. Get in touch with us and explore the possibilities of our team creating custom AI solutions tailored for your needs.
Learn More
Alternatives