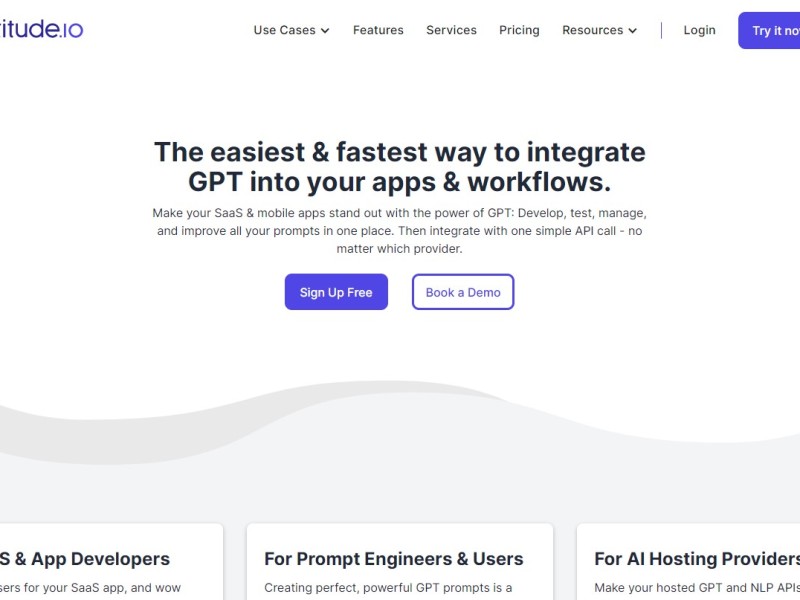 Promptitude is an AI tool that enables SaaS and mobile app developers to easily integrate GPT features like text generation and information extraction into their apps with just one API call, while also providing a platform for prompt development, testing, and management.
Easy Integration: Developers can easily integrate GPT features into their apps with just one API call, regardless of the provider they use
Prompt Development: Develop, test, and manage all prompts in one place using the built-in interface, saving valuable development time
User Feedback: Gather feedback from end-users and filter the logs for good and bad generations to improve prompts
Pre-built Prompt Library: Browse pre-built GPT prompts for common use cases like text summarization, headline generation, and web page information extraction, or publish your own prompts as a professional prompt engineer
Pricing Type: Freemium
Price: Paid Plans from $19/mo
Platform(s): API, Web
---
Share this AI Tool:
---
Need custom AI solutions for your business?
At AI Scout Solutions, we build AI tools tailored to your unique requirements. Get in touch with us and explore the possibilities of our team creating custom AI solutions tailored for your needs.
Learn More
Alternatives