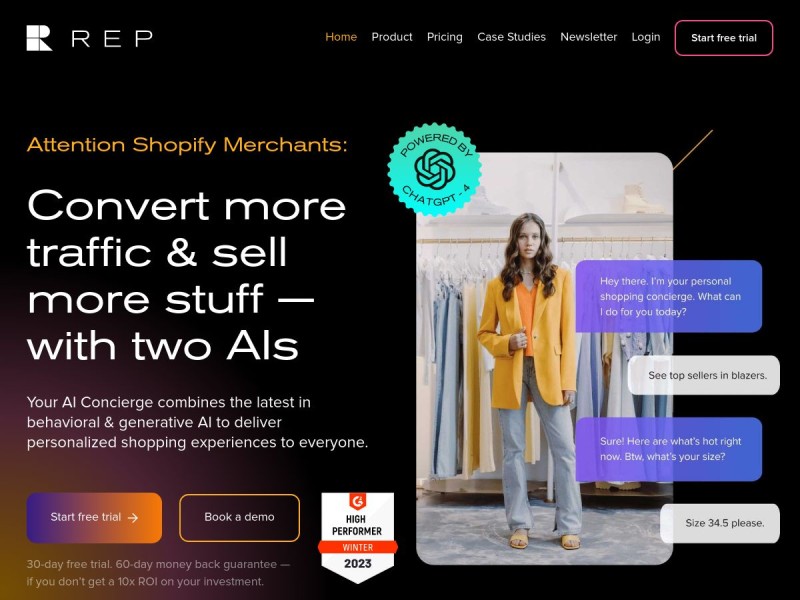 Rep AI is an AI-powered chatbot tool designed exclusively for Shopify merchants, delivering personalized shopping experiences and boosting conversions. With its conversational shopping assistant and advanced behavioral AI, Rep handles the entire shopping journey within the chat, from product recommendations to checkout, while continuously scanning the website for updates.
Conversational Shopping Assistant: Engage customers in contextual and focused conversations within the chat, providing personalized recommendations and facilitating the entire shopping experience.
Behavioral AI and Constant Website Scanning: Rep's AI answers product-related questions, understands idioms and slang, and scans the website for updates to ensure up-to-date information is provided to shoppers.
Multi-language Support and 24/7 Availability: Offer support and assistance in multiple languages, and serve customers 24/7 with an AI that is built to cater to their needs.
Integration with Shopify Apps and Support Stack: Seamlessly integrate Rep with your favorite Shopify apps, email, SMS, live chat, or customer support platforms, providing a comprehensive solution for enhancing the shopping experience and managing customer interactions.
Pricing Type: Free Trial
Platform(s): Integrations/Plugins, Web
---
Share this AI Tool:
---
Need custom AI solutions for your business?
At AI Scout Solutions, we build AI tools tailored to your unique requirements. Get in touch with us and explore the possibilities of our team creating custom AI solutions tailored for your needs.
Learn More
Alternatives