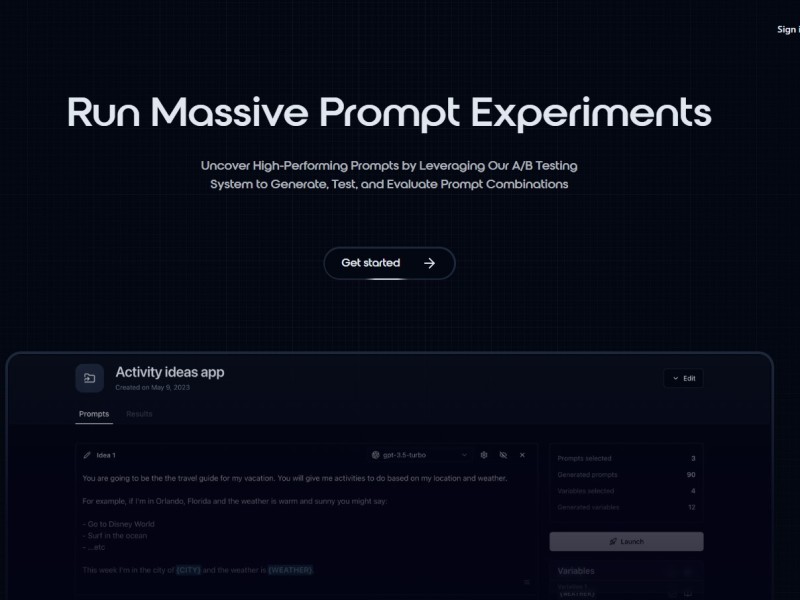 Rompt.ai is an AI tool that empowers users to run massive prompt experiments and uncover high-performing prompts through its A/B testing system. With the ability to create prompts, declare variables, generate massive outputs, and rate and analyze results, Rompt.ai provides a comprehensive platform for prompt testing and evaluation.
Create your prompts: Organize prompts into version-controlled collections that can be used across experiments, ensuring efficient management of prompt variations.
Declare variables: Utilize the native templating language to simulate variables, adding dynamic elements to your project and enhancing prompt customization.
Generate massive outputs: Run variations of your prompts with different formats, models, and variables to generate a large output dataset, enabling thorough analysis and comparison.
Rate and analyze your results: Evaluate the performance of generated results by scoring them, allowing you to identify the highest performing prompt in your output database.
Pricing Type: Free
Platform(s): API, Web
---
Share this AI Tool:
---
Need custom AI solutions for your business?
At AI Scout Solutions, we build AI tools tailored to your unique requirements. Get in touch with us and explore the possibilities of our team creating custom AI solutions tailored for your needs.
Learn More
Alternatives