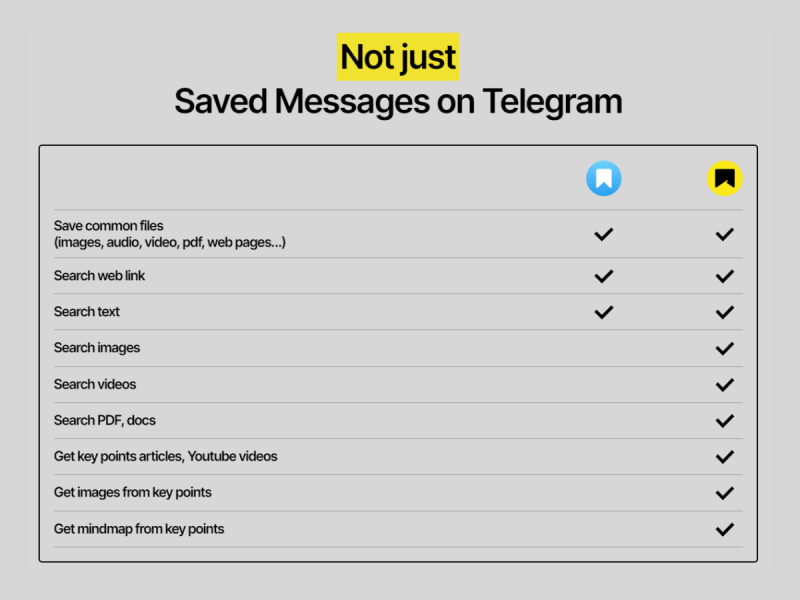 SaveDay is an AI Quick Capture Bot on Telegram that enables users to effortlessly save and organize various types of content, including multimedia, web links, and files. It offers intuitive search capabilities, allowing users to retrieve saved content based on their own recollection, and provides instant key notes with visually appealing images.
Save Anything: Easily store multimedia, web links, files, and more by forwarding them to SaveDay
Intuitive Search: Retrieve saved content based on personal recollection, without the need for specific keywords or tags
Instant Key Notes: Obtain concise and visually attractive key notes generated by the bot for efficient information consumption and sharing
Wide File Format Support: Capture and manage common files such as images, videos, audio, PDFs, web pages, and more
Pricing Type: Free
Platform(s): Telegram Bot
---
Share this AI Tool:
---
Love the keynotes image. Highly rcm
This tool is super helpful. I can save and retrieve all of my images easily now thanks to SaveDay. Can't wait to see their Chrome extension
cool AI bot for capturing and retrieving information
great tool for quickly get key ideas from long articles
🤓 Thumbs up for this chatbot genius! All features are absolutely fantastic and effective! I highly recommend that everyone gives it a try and experiences it firsthand.
it helps me save a lot of time in retrieving and getting key point of my saved information
save time to retrieve (even images, videos)
save time to read long long articles thanks to 'get key points' feature
SaveDay Bot is an amazing tool for any knowledge lovers. With its intuitive interface, SaveDay Bot makes it simple to quickly capture your notes or articles or even memes. The best part of SaveDay is that I can easily search my saved content back through simple keywords. Overall, I highly recommend SaveDay Bot to anyone looking for an effective and easy-to-use productivity tool.
Need custom AI solutions for your business?
At AI Scout Solutions, we build AI tools tailored to your unique requirements. Get in touch with us and explore the possibilities of our team creating custom AI solutions tailored for your needs.
Learn More
Alternatives