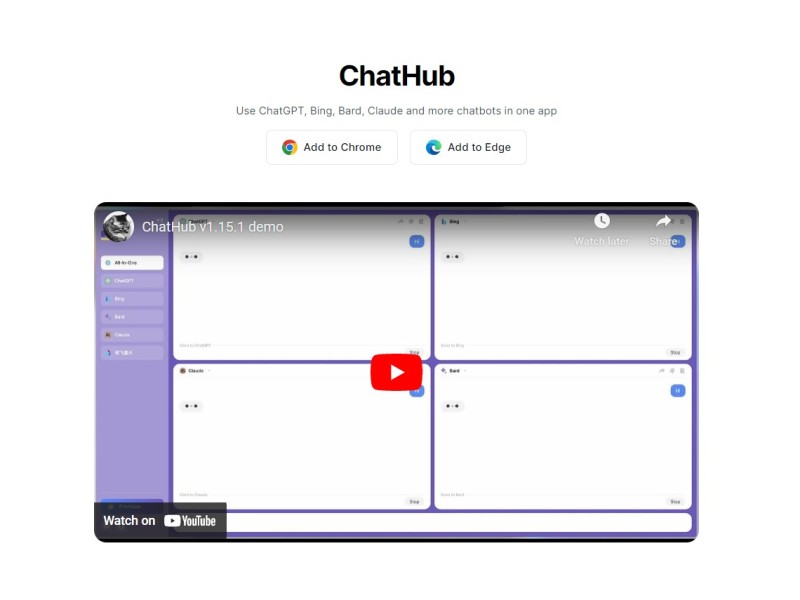 ChatHub is an all-in-one chatbot client that brings together various chatbots like ChatGPT, Bing, Claude, Bard, and more into a single platform, enabling users to access multiple chatbots simultaneously.
🤖 Multiple Chatbot Integration: Access and use different chatbots within a single app, including ChatGPT, Bing Chat, Google Bard, Claude (via Poe), Alpaca, Vicuna, ChatGLM, and more.
💬 Simultaneous Chat: Engage in conversations with multiple chatbots at once, making it convenient to compare their responses and capabilities.
🚀 ChatGPT API and GPT-4 Browsing: Support for ChatGPT API and browsing capabilities for GPT-4, expanding the functionality and options available to users.
🔍 Convenient Activation and Features: Quick activation of the app within the browser, support for Markdown and code highlighting, prompt library for custom and community prompts, conversation history saved locally, export/import functionality, sharing conversations as markdown, and a dark mode option.
Pricing Type: Freemium
Platform(s): Browser Extension, Open Source
---
Share this AI Tool:
---
Need custom AI solutions for your business?
At AI Scout Solutions, we build AI tools tailored to your unique requirements. Get in touch with us and explore the possibilities of our team creating custom AI solutions tailored for your needs.
Learn More
Alternatives