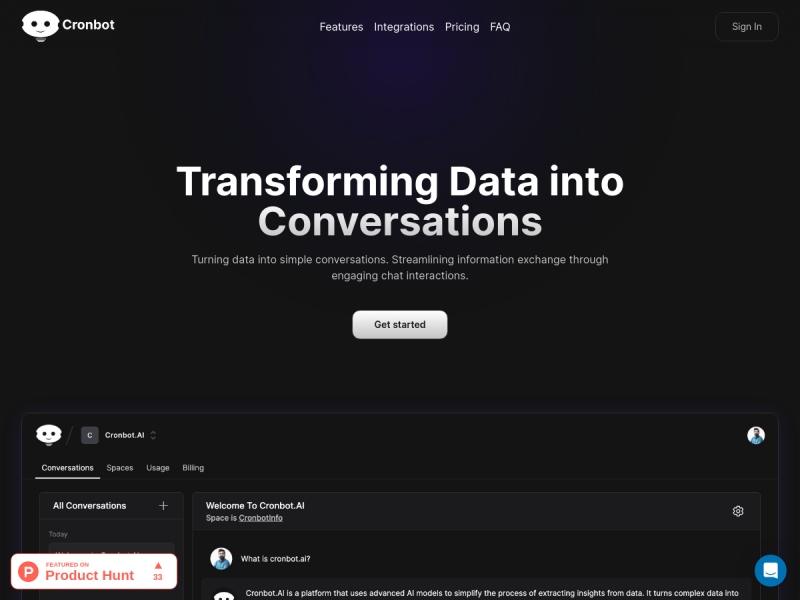 Cronbot AI is an AI-driven data management tool that enables users to engage in intuitive conversations with a bot to extract and organize data from various sources. With its advanced AI models and customizable plans, Cronbot AI helps users to simplify data exploration and enhance the security and privacy of their data.
Advanced AI models: Integrates the most advanced AI models for insightful and precise data interactions, including GPT-3.5 Turbo and GPT-4
Conversational AI: Engage in seamless dialogues with the bot to extract the information needed without having to manually sift through data
Data organization: Group and manage data in designated 'Spaces', ensuring an efficient and targeted conversation stream within the application
Data source compatibility: Supports PDF data sources currently, with plans in place to extend support to other data file extensions
Pricing Type: Free Trial
Price: $29/mo
Platform(s): Integrations/Plugins, Web
---
Share this AI Tool:
---
Need custom AI solutions for your business?
At AI Scout Solutions, we build AI tools tailored to your unique requirements. Get in touch with us and explore the possibilities of our team creating custom AI solutions tailored for your needs.
Learn More
Alternatives