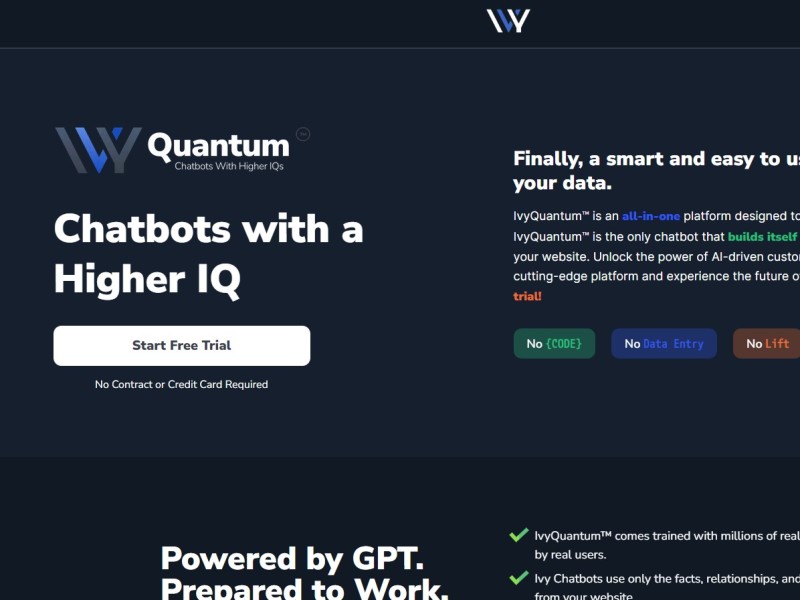 Ivy.ai is an AI tool that enables users to build and deploy smart chatbots with ease. With IvyQuantum™, users can create chatbots that automatically sync with their website content and provide accurate answers to customer inquiries.
Smart Chatbots: Build and deploy chatbots that utilize AI to provide intelligent responses to customer inquiries
Website Sync: Keep your chatbot's content in sync with your website, ensuring up-to-date and accurate information
Communication Channels: Utilize AI-powered channels such as QuantumMail, QuantumVoice, and QuantumSMS for seamless customer support across different platforms
System Integration: Connect your chatbot with your existing systems using QuantumConnect, enabling personalized conversations and data integration
Pricing Type: Contact for Pricing
Platform(s): Integrations/Plugins, Web
---
Share this AI Tool:
---
Need custom AI solutions for your business?
At AI Scout Solutions, we build AI tools tailored to your unique requirements. Get in touch with us and explore the possibilities of our team creating custom AI solutions tailored for your needs.
Learn More
Alternatives