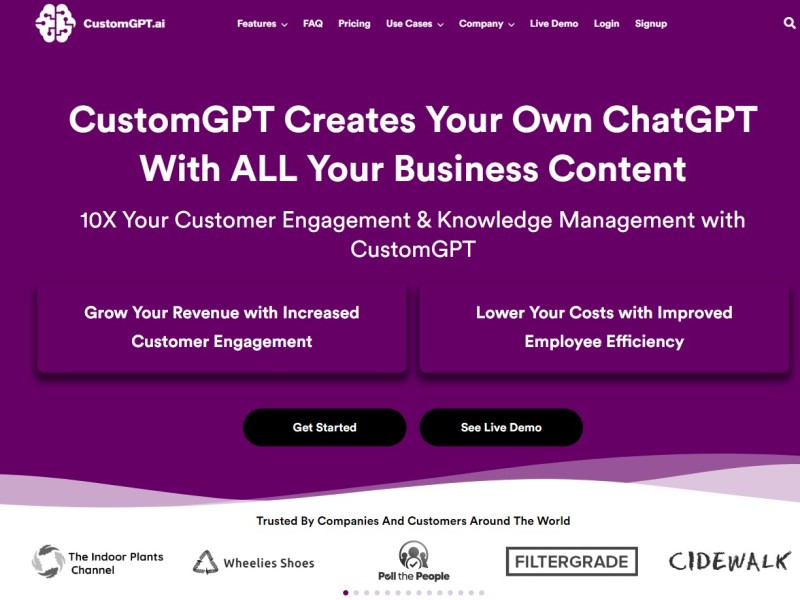 CustomGPT is an AI tool that allows businesses to create their own chatbot powered by ChatGPT, customized with their own business content. With a custom-built ChatGPT, businesses can automate tasks, provide tailored customer interactions, and improve overall customer experience.
Increased Efficiency: Automate repetitive tasks and provide quick responses to customer inquiries, freeing up human staff for more strategic tasks
Improved Customer Experience: Provide more tailored and relevant customer interactions, enhancing the overall customer experience
Easy Setup: Quickly ingest business content with seamless website integration or file uploads
Powered by ChatGPT: Get cutting-edge AI capabilities with a ChatGPT-powered custom bot, delivering fast responses with citations and sources
Pricing Type: Paid
Price: From $49/mo
Platform(s): API, Integrations/Plugins, Web
Promos: Use Code ONEMONTHOFF for 1 Month Free!
---
Share this AI Tool:
---
Need custom AI solutions for your business?
At AI Scout Solutions, we build AI tools tailored to your unique requirements. Get in touch with us and explore the possibilities of our team creating custom AI solutions tailored for your needs.
Learn More
Alternatives